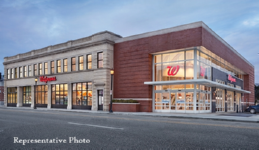 Walgreens (NYSE:WAG) at 8980 E Tanque Verde Road in Tucson was sold before it was finished. The single tenant, freestanding 14,820- square-foot Walgreens with drive-thru opened December 2013. Before construction was completed, 813 Corporation, a Colorado-based investment company (James Pallasch, managing member) had it under contract to purchase at $8.3 million ($560 PSF), an upleg in a 1031 exchange.
The property is a new prototype for Walgreens and one of the first stores in Arizona to have the new "Wellness Experience". This improved prototype focuses on the Pharmacy and building sustainability internally and externally.
The property was constructed on 3 acres on Tanque Verde, southwest of Woodland Road, and adjoining Bear Canyon Commercial Center. The property has a 75 year absolute NNN Ground Lease. The seller, RPM Catalina & Tanque Verde, LLC, an affiliate of TradeCor Partners (Britt Rand Sanchez, managing member) was also the builder.
The lease is corporate guaranteed by Walgreen Co, with a Standard & Poor' s Rating A-2 and Moody' s Rated Baa1. As the Nation' s largest drug store chain, it remains one of the fastest growing retailers in the country. Now operating over 8,071 locations along with over 700 wellness centers.
The Tanque Verde property is a similar to the Walgreens prototype that sold at 730 E Grant Road recently and was the highest selling Walgreens in the state, that of $9.055 million ($689 PSF).
Listing brokers were Jereme Snyder, Eric Carlton and John Sharpe with Colliers International of Irvine, CA representing the seller. The investor was represented by Bob Bramble with Newmark Grubb Knight Frank of Denver, CO.
Snyder can be reached at (949) 724-5552, Carlton is at (949) 724-5561 and Sharpe is at (949) 724-5546. Bramble can be contacted at (303) 260-4311.
Login for additional details.
[mepr-show rules="58038"]Sale date: 1/15/2014. This transactions was buyer's upleg in a 1031 exchange and was on a 75 year absolute NNN ground lease. Buyer paid $3,939,361 down and financed the balance conventional. Property sold with an NOI of $460,000, with net lease terms and 10+ years remaining on lease. Property sold at a 5.54 % cap rate.[/mepr-show]