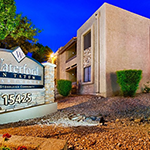 ABI Multifamily announced this week the sale of Waterford on Tatum, a premier North Paradise Valley apartment complex with 128-unit for $14.175 million($110,742 per unit) and Southern Ridge, a 113-unit apartment complex in Mesa for $6.51 million($57,610 per unit).
This completes an exciting past week at ABI, with three significant closings (Scottsdale Haciendas Condominiums & Townhomes being the other). Total transaction volume for the three closings was $29.935 million, with 320 total units and a price per unit of approximately $93,550.
Waterford on Tatum Apartment community is located at 15425 North Tatum Boulevard in Phoenix, Arizona. The property is in the heart of one of the most desirable areas in the entire valley with great access to the I-51 and Loop-101 freeways. Some of the major employers in the immediate area include GoDaddy, JDA Software Group, Veri Fone, Inc., Discount Tire, First National Financial Services, Choice Hotels, Skill Soft and St. Jude Medical Center. The location provides for easy access to major job centers via the surrounding freeways, while also allowing for quick access to many options in all directions for shopping, entertainment, and fine dining.
Waterford on Tatum Apartments was originally constructed 1985 out of wood frame and stucco. The property sits on nearly 6 acres of land, with 8 total buildings and a dedicated leasing center that was recently remodeled. All common areas were completely renovated in 2013 and a portion of the interiors were as well. Waterford is a solid and highly sought after "B" class community, with majority two bedroom / two bathroom floor plans. The property is one of the most well located communities in the Phoenix market. Waterford's' high-end community amenities include newly renovated resort-style pool & spa, outdoor gas and charcoal grills, newly renovated state-of-the-art fitness center, clubhouse with coffee bar, Internet cafe with free Wi-Fi access, business center with computer station, covered reserved parking, newly renovated and fully appointed clubhouse, and lush resort style landscaping.
Paying attention to every detail, the property takes it up a notch with the interiors too with new appliance packages, large private balconies/patios, stackable washers / dryers, upgraded wood-like flooring, coat closets, spacious walk-in closets, ceiling fans, and upgraded designer track lighting, and outdoor storage closets
The buyer, a Private Partnership, based in Calabasas, CA, is an experienced multifamily investor with hundreds of units in the Phoenix market. The Seller, Stoneleigh Companies, based in Barrington, IL, with a local office in Scottsdale, AZ, is an experienced multifamily developer and institutional caliber investor. Stoneleigh currently operates approximately 4,000 units nationwide and is under construction on six other new multifamily communities in the US.
The Phoenix-based ABI Multifamily brokerage team of Alon Shnitzer, Rue Bax, John Kobierowski, Doug Lazovick and Eddie Chang represented both investor and seller in the transaction.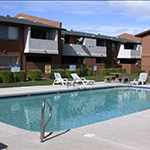 ABI Multifamily also closed the 113-unit garden-style community of Southern Ridge that sold for $6,51 million ($57,610 per unit) this week.
Southern Ridge is an apartment community located at 214 North Gilbert Road, Mesa, Arizona. The property was built in 1985. All units are platted as individual condominiums, with upgraded, condo-style finishes, washer/dryers in each unit and individually metered for all utilities including water. All apartments include individual HVAC systems. Common area amenities include a swimming pool, leasing office, community center, covered parking, microwave ovens, and private patios/balconies.
The buyers in the transaction, Los Alamitos, CA-based Aleksandar and Brankica Nadazdin, were attracted to the majority Two Bedroom/Two Bathroom unit mix, the in-place condo map, as well as the trending fundamentals in the immediate neighborhood.
"This was a very difficult transaction to close as it was sold by 57 separate ownership groups. These groups had originally been investors in Deeds of Trusts through the once very active group, Right Place Properties, a local condominium developer. When Right Place Properties became insolvent, these investors were deeded ownership in the individual condominium units. All were passive investors, who overnight became landlords. When Right Place failed, there were dozens of properties around metro Phoenix like this. Partially sold, fragmented and owned by passive investors, sometimes in trusts and retirement plans. It was very difficult to reassemble them all back into the original 113-unit property. The buyers were patient and worked through the challenges to end up with a great asset at a good price" stated John Kobierowski, Senior Managing Partner at ABI Multifamily.
The Phoenix-based ABI Multifamily brokerage team of John Kobierowski, Alon Shnitzer, Rue Bax, Doug Lazovick, and Eddie Chang represented the buyer in this transaction. Peter TeKampe of the Phoenix office of Marcus & Millichap represented the sellers.
Kobierowski can be reached at 602-714-1384, Shnitzer is at 602-714-1283, Bax can be contacted at 602-714-1406, while Lazovick is at 602-714-1388 and Chang at 602-714-1398.