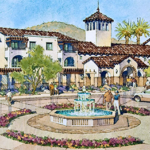 Watermark Hacienda Sisters Investments, LLC, bought 10.15 acres of land from The Sisters of the Immaculate Heart of Mary for $3.75 million ($8.48 PSF). The property was a portion of St. Anne's Convent and sold for construction of the Hacienda Sisters Retirement Community Phase I. The property is located on Sabino Canyon Road, north of Cloud, at the southeast corner of Flaming Sky Dr and Sabino Canyon.
The project will entail several "communities within a community." For example, one community will be comprised of residents of the casita homes, targeted to younger retirees (65+).  Casita residents will have access to all common areas of the community, including the dining venues in the independent living common and the wellness center and its dining venue, and other common areas. It is likely these residents will utilize the programs and spaces in the wellness center more often than the residents of the independent living apartments or assisted living.
The Independent Living accommodations will be configured for 150 residents in three-story buildings radiating from a common area building. The residences will include one- and two-bedroom apartments ranging in size from approximately 800-square-feet to over 1,300-square-feet and are designed to attract the "typical" resident of continuing care retirement communities ("CCRC").
Assisted Living neighborhood will provide 64 studio and one-bedroom accommodations for residents requiring assistance with daily activities such as bathing, medication administration, dressing, etc.  The assisted living component will include a dining room, activity rooms, library, crafts room, and a small home theater.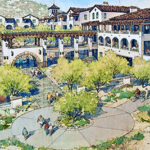 One large home, designed to accommodate approximately 36 residents, will house the program for residents suffering from dementia. The staff in each Villa is cross-trained in all aspects of caring for the residents.  The caregivers, called Niyas, cook, clean, provide activities and all of the care for the residents of the Villas.  This program, based loosely on the Greenhouse Concept, has proven to be a very effective care delivery model.  The home-like setting allows residents afflicted with Alzheimer's Disease to adapt and flourish more easily.
The Watermark team is proud to have selected one of the nation's most innovative and prestigious design firms to head up the architectural design and planning for the community. Allen + Philp, based in Scottsdale, Arizona will be the lead architect.  Allen + Philps has, for more than four decades, upheld a clear mission that matches perfectly with the vision for this community: To provide great design that improves the human condition. In addition to Allen + Philp's direct experience in designing world class continuing care retirement communities, it also has extensive experience in designing hotels and resorts around the world.  This experience is perhaps more important than their senior housing experience in that Watermark wants to create an experience for the community's residents. It is Allen + Philp's creative ideas and enthusiasm for the project that convinced Watermark that they were the best choice for this community.
Groundbreaking for the project is scheduled for May 2016 and opening about 16 months thereafter, in Fall 2017. Leasing  will begin at groundbreaking. Watermark recently acquired Fountains at La Cholla in a $640 Million in a 15 property portfolio sale in 11 states. See full story here  https://realestatedaily-news.com/fountains-la-cholla-sells-69-9m-640m-portfolio/
For additional information see RED Comp #2949.