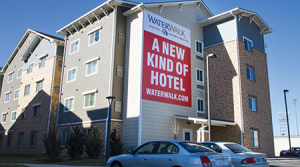 TUCSON, ARIZONA -- The Bridges in Tucson is a cohesive 350-acre master-planned collection of districts having three separate ownership entities: Bourn Companies, University of Arizona's Tech Parks Arizona and Retail West.
Bourn Companies sold 2.18-acres recently to WaterWalk, a developer of upscale extended stay hotels. WaterWalk bought the development site located at Tucson Marketplace and Park Ave., near the JTED Innovative Learning Center at The Bridges, for $1.825 million.
WaterWalk plans to construct an upscale extended stay hotel. This will be its 11th location, with WaterWalk Phoenix scheduled to open Summer 2021.  The Tucson site is its second in Arizona with +/- 120 furnished and unfurnished rooms. The average length of stay at WaterWalk is 89 days.
WaterWalk combines the most appealing features of an upscale hotel with the space and amenities travelers enjoy while away from home. By design, the innovative prototype efficiently penetrates target market segments such as relocations and corporate projects/trainings. A marquee brand innovation created by an accomplished leadership team with extensive experience across various lodging sectors, WaterWalk is the fifth national brand started by Jack DeBoer, including Residence Inn, Summerfield Suites, Candlewood Suites, and Value Place/WoodSpring.
WaterWalk plans to have 50 locations open by year-end 2024. This is the second hotel announced for the Bridges since Woodspring Suites announced in September.
Bourn Companies controls 112 acres and is developing multiple districts of The Bridges. These include: a corporate office district, home to GEICO's regional headquarters; Mosaic, a creative office and educational district featuring JTED's newest technical education campus; and Brioso, an eclectic, Spanish-inspired residential community centered around a vibrant Main Street scene with 128 modern homes, creative office and live/workspaces and an innovative urban-style resort.
GEICO has taken possession of their 200,000-square-foot regional headquarters, construction is underway on Mosaic and Brioso.
Kidder Mathews commercial real estate brokers, Trask Switzenberg and Chuck Wells, represented WaterWalk in the transaction and Allan Tanner with Bourn Advisory Services represented the seller.
The Pima JTED Innovative Learning Center at the Bridges at 3300 S Park Ave., opened is 50,000-square-foot facility for Fall 2020. JTED has provided students the industry training programs since 2007, while Tucson Unified — Tucson's largest school district — provides students the general education classes required for earning a high school diploma.
This new campus allows Pima JTED (Joint Technological Education District) to expand their program offering simultaneous high school education and industry certifications in a variety of fields including Culinary Arts, Mechatronics, Robotics, Aviation, Health Care, and 3-D Animaton.
An additional 2.66-acres transferred to the JTED developers, JTED Bridges II (Gary Brav and Don Bourn, managers) on December 30, 2020 for $1.858 million to hold for future expansion.
Adjacent to the Bourn-controlled districts are the planned UA Tech Park at The Bridges, a 65-acre research and innovation park on the northeast parcel of the project, and Tucson Marketplace, an 850,000-square-foot regional super center on the southern parcel that is approximately 50% complete.
For more information, Wells can be reached at 602.513.5141 and for Tanner call 520.323.1005.
To learn more, see RED Comp #8349 and #8393.