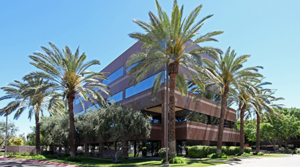 PHOENIX, Arizona – Cushman & Wakefield has announced that WellCare Health Plans, Inc. signed a 10-year, 81,306-square-foot lease at Two Gateway Center. The national health insurance tenant executed a long-term lease worth $23 million will occupy three floors at 432 N. 44th Street in Phoenix.
On behalf of WellCare Health Plans, Inc., the transaction was completed by Larry Downey and Brett Thompson of Cushman & Wakefield's Phoenix office and Dave Johnson and Liz Osborne of Cushman & Wakefield's Denver office. Jerry Roberts and Pat Boyle of Cushman & Wakefield's Phoenix office represented the landlord, Lowe Enterprises Inc.
"This transaction is a testament to the Cushman & Wakefield platform. It was a team effort and we received great support from our local partners, which allowed this transaction to move quickly. The ability to service our client in Tampa Bay and to also expand was important," said Johnson.
Two Gateway Center offers impressive amenities, proximity to the airport and the ability to expand the sister building. The property also features abundant surface and covered parking, a new fitness center with an energized outdoor amenity space, an on-site deli, a tenant conference room and a tenant lounge.
"The building's central location with the availability of contiguous space for expansion and ample parking was of the utmost importance to the client," said Downey.
This transaction represented a major expansion for the company in the Phoenix market, since WellCare Health Plans, Inc. acquired Care 1st Health Plan Arizona in early 2017.