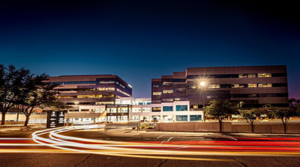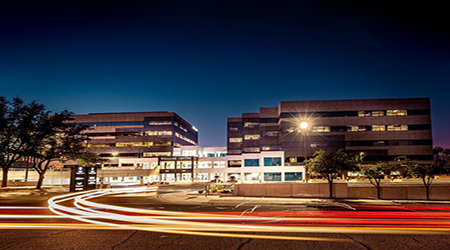 TUCSON, ARIZONA – WCCP Rosemont and PEA Enterprises (Phil Skillings, manager) affiliates of West Coast Capital with offices in Scottsdale and Los Angeles has begun $3.8 million in capital improvements to properties at the Williams Center in Tucson.
The properties include 5210 East Williams Circle, the Twin Towers at 5225 & 5285 East Williams Circle and a 1,932-square-foot freestanding former retail bank branch building with drive thru at 5180 East Williams Circle.
Phil Skillings with NAI Horizon of Tucson, and also a principal with WCCP is handles leasing and oversees the improvements.
The capital improvements start with an additional 135 parking spaces for 5210 East Williams Circle, a nine-story office building.
"By removing the fountain in front and making some landscaping changes to the property we're gaining more parking and transforming the building from an industrial grade mid-1980 quality building, to a modern century class-A office in any market," Skillings said. "The capital improvements being made also include modernizing the main lobby, the upper floor lobbies and adding upscale office amenities such as an onsite fitness center in the former freestanding 1,932-square-foot bank building."
With only about 15% use of the office space right now, it's a perfect time to be making these improvements. Skillings says there hasn't been problems with tenants honoring their leases during the pandemic, with such tenants as Blue Cross / Blue Shield, The Waterfall Law Firm, Fairway Independent Mortgage, Quicken Financial, Crest Insurance, BBVA Bank, Clifton Larson Allen, and HealthNet. Skillings expects the office market will return to 'pre-COVID normal' in January and plans to be ready for office tenants when business social interaction is again brought back.
The property can currently accommodate tenants from 1,000 to 50,000-square-feet, Skillings told us.
The property was acquired in November 2019 from The Colton Company when seller was closing out its Tucson portfolio and sold these William Center properties along with The Cambric Center in a Bulk Sale for $68.35 million.
West Coast Capital has grown assets quickly in Tucson with creative solutions for office and retail properties. The company's office portfolio in Tucson includes:
333 E. Wetmore Road  was acquired for $26. 5 million in 2015.
Bought in 2016 5431 & 5451 East Williams Circle was bought for $13.6 million.
Orange Grove Medical Center at  2155 W Orange Grove was acquired in 2015.
The former Five Palms Restaurant at 3500 East Sunrise Drive has been repurposed beautifully for Bank of America and Merrill Lynch since it was purchased in 2018.
Presidio de Rio Building conversion at Fort Lowell and Dodge was bought in April 2020 at 3700 E Fort Lowell.
For more information on any of these properties or West Coast Capital, Skillings should be reached at 520.603.4013.