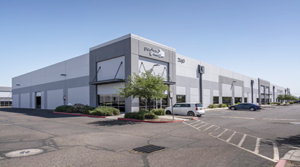 Acquisition of Seven Properties Adds to Extensive Industrial Portfolio for Westcore
Denver, CO and Phoenix, AZ  – Westcore, a leading West Coast industrial real estate acquisition, development and asset management firm, acquired the Mountain West portfolio of seven properties, consisting of four in Phoenix and three in Denver, for an undisclosed sum.
The four properties in Phoenix include nine buildings, predominantly multi-tenant in nature, encompassing 460,214 square feet, and three single-tenant buildings in Denver for a combined total of 224,184-square-feet.
"Phoenix and Denver are both extremely healthy industrial markets with very limited options for tenants looking of smaller suites in the 10,000 to 75,000 square foot range," said Westcore Managing Director Hack Adams. "The acquisition of these in-fill and functional projects, currently fully occupied, come with significant upside due to the 2.5 years of weighted average lease term in the portfolio, coupled with the meaningful rent growth being achieved in each market."
According to Cushman & Wakefield's third quarter industrial report for Denver, asking rates ticked up this quarter. As employment in Denver continues to show strong signs of economic recovery, job growth and consumer spending will continue to improve. Likewise in Phoenix, the industrial market absorbed approximately 6.6 million square feet in the third quarter, with five of the seven property product types having recorded positive absorption and year-over-year rent growth approaching 10%.
Westcore plans to upgrade many of the Mountain West properties, including roof replacements in Phoenix. Throughout the portfolio, upgrades will also include cosmetic enhancements of paint, landscaping and asphalt, as well as improvements of office suites as leases roll. 
Will Strong and Greer Oliver of Cushman & Wakefield represented the (undisclosed) seller, while Westcore represented itself in this transaction. Westcore relied on local market expertise from Jeff Conrad of Lee & Associates and Jackie Orcutt of CBRE in Phoenix and Drew McManus of Cushman & Wakefield in Denver.
Westcore acquired over $1 billion worth of industrial real estate in 2020, comprising over 11 million square feet of building space, and is on par to acquire in excess of $600 million of industrial assets in 2021. Westcore currently owns property in 13 states.