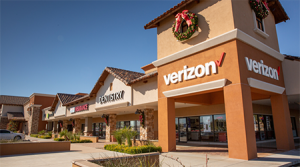 Increases Occupancy by 3.5%, and Increases NOI by 6.3% at Its Fountain Hills Plaza
FOUNTAIN HILLS, ARIZONA -- Whitestone REIT gets "Into the Zone" by adding AutoZone to its Fountain Hills Plaza property in Arizona.
With the signing of AutoZone, Whitestone increased property occupancy by 3.5% and property net operating income by 6.3% by doing what it does best, crafting the optimal mix of tenants to meet the needs of the local community. The addition of the Fortune 500 company also improves the quality of cash flows to Whitestone's shareholders and helps guarantee the long-term security of the property. AutoZone joins other essential tenants Bashas' grocery store, Ace Hardware, and Verizon Wireless.
Chairman and CEO Jim Mastandrea commented, "Fountain Hills Plaza has been an essential staple in the community of Fountain Hills, providing for the neighborhood throughout COVID as evidenced by the consistent foot traffic we were able to track over the past eleven months of the pandemic. In fact, data sourced from our internal artificial intelligence platform has shown actual increases in year-over-year foot traffic during 15 weeks of the pandemic. This type of data speaks to the significantly important role our centers play in the everyday lives of our neighborhoods. The essential quality of our properties in turn, helps attract quality tenants who want to benefit from the steady and consistent consumer visits to our centers."