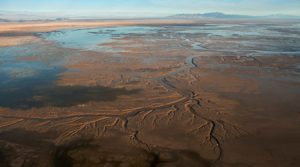 TUCSON, AZ (November 10, 2023) -- Sonoran Institute and partners will attend the "Women & Water: A New Story Begins on the Colorado River" event in Tucson, on Monday, November 13th. This symposium celebrates women who work in and around water issues of the Colorado River and the intersection between indigenous knowledge and Western science. Featuring presentations from Tazbah Rose Chavez, Anne Castle and more.
Location: SXD Community Building, San Xavier District of the Tohono O'odham Nation, 2018 West San Xavier Road, Tucson, AZ 85746
Tazbah Rose Chavez will be gracing the event with a poetry performance. Tazbah is a performance poet turned director and television writer. She is currently a Co-producer on FX's series Reservation Dogs, a former Story Editor on NBCUniversal's Rutherford Falls, and was a staff writer for SyFy's Resident Alien.
Anne Castle will be discussing "2026 & Beyond - Opportunities for Collaboration and Community Building." Anne Castle is a senior fellow at the Getches-Wilkinson Center for Natural Resources, Energy, and the Environment at the University of Colorado Law School, focusing on western water issues, including Colorado River policy and management and the integration of Tribal water interests.
We look forward to working with our partners Planet Women, The Chapter House, the Indigenous Women's Leadership Network, San Xavier District of the Tohono O'odham Nation, & The Nature Conservancy as we celebrate the Colorado River and the folks that care for it.
This event, which focuses on empowering the voices of women, femmes, and all who have historically been excluded from environmental spaces, coincides with the One Water Summit also taking place in Tucson.
*It's important to define how we are using the word "women." Our definition includes cisgender women, femme/feminine-identifying, and genderqueer and non-binary individuals who have historically been excluded from the environmental space.
Founded in 1990, the Sonoran Institute's mission is to connect people and communities with the natural resources that nourish and sustain them. We envision resilient communities living in harmony with the natural world, where flowing rivers and healthy landscapes enable all people and nature to thrive. Our work transcends borders, bringing together diverse communities to promote civil dialogue about complex conservation issues that know no boundaries. All aspects of our work are guided by inclusivity and collaboration to create positive environmental change in the western United States and northwestern Mexico. For more information visit: www.sonoraninstitute.org.
Founded in 2020 by two seasoned conservation leaders, Planet Women is resourcing women leaders today and changing systems for tomorrow. We directly invest in local women and communities protecting critical rivers and forests in Africa, the Andes-Amazon, and the American West. We also provide leadership training to diverse, multi-generational environmental practitioners. Learn more at www.planetwomen.org.
PHOTO: Tidal Flats and channels rimmed by green salt grass near Montague Island, Colorado River Delta, Baja California, Mexico. Colorado River Delta, Mexico. Heli Flight Sonoran Institute 2-3 July 2015. ©Bill Hatcher 2015