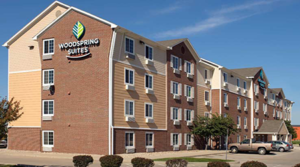 TUCSON, ARIZONA - Tucson WSA Investors of Wichita, KS bought 1.85 acres at Tucson Marketplace at the Bridges for $827,000 ($10.26 PSF) for construction of a Woodspring Suites Hotel. The asset closed on September 14, 2020.
Located about 300 feet to the east of Dave & Buster's, the new hotel will be approximately 48,000-square-feet in four stories and have 122-extended stay rooms. This will be the first Woodspring Suites in Tucson with two others already in the Phoenix metro.
Founded in 2003, the buyer spent the first dozen years building Value Place extended stay hotels. In 2015 it was rebranded to WoodSpring Suites. Today,  it has 275+ extended stay hotels offering guests who are working, learning, exploring, and changing, incredibly clean, affordable rooms and a welcoming, friendly guest experience for a night, a week, a month, or longer. 247+ of these hotles are pet-friendly hotels and 140+ offer 100% smoke-free hotels.
Other activity at Tucson Marketplace at the Bridges includes a Taco Bell, to the north of Popeye's, currently under construction and scheduled to open in December.
Chad Russell and Randy Titzck of Arizona Land Advisors represented the the Canadian-based seller, Tucson Retail, LLC. Chuck Wells with Kidder Matthewsin Phoenix represented the developer.
For more information, Russel and Titzck should be reached at 480.483.8100.
To learn more, see RED COMP #8098.