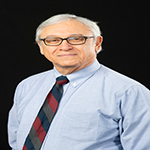 PIMA COUNTY — Arnold Palacios, who has more than 30 years' experience with workforce development, education and economic development programs in urban and rural Pima County, was recently named director of the Pima County Community Services, Employment and Training Department (CSET).
CSET administers programs to improve the economic and social sustainability of Pima County. The Department operates ARIZONA@WORK – Innovative Workforce Solutions, which works with industry partners, community organizations, government agencies and faith-based groups to deliver services efficiently and effectively.
Palacios was named interim director on July 23, following the retirement of former director Charles Casey. Prior to that, he served as program manager for Las Artes Arts & Education Center, a County workforce program combining structured classroom study with community art projects to prepare students age 17-22 for the GED tests. Palacios also spent seven years as executive director of Tucson Youth Development, which involved overseeing federal, state and local youth workforce development programs as well as serving as superintendent for two charter high schools. Before getting into workforce development and educational administration, Palacios served for 18 years as a special education teacher and bilingual drama instructor in the Tucson Unified School District. He also recently was elected to the leadership council for United Way of Tucson and Southern Arizona's Cradle to Career Partnership.
As director of Community Services, Employment and Training, Palacios oversees the activities of the department's two major divisions: Workforce Development and the Community Action Agency, which provides basic assistance to low-income families and single adults. He also maintains close partnerships with County departments, contracted agencies, community non-profits and other private entities involved with workforce development, economic development and community support services.
"Throughout his tenure with CSET, Mr. Palacios has proven himself to be an asset to Pima County," wrote County Administrator Chuck Huckelberry in a memo announcing the appointment. "I am pleased he will continue to serve the people of our community."
Palacios said he relishes that opportunity. "I am excited and honored to lead the Community Services, Employment and Training Department that provides so many critical services to the Pima County community," he said.