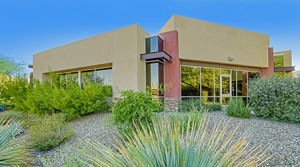 SCOTTSDALE, Arizona – As savvy commercial real estate investors flocked to relocate assets from distressed cities to smaller, thriving markets, Andrea Davis CRE in 2020 met the demand head on through 1031 Exchange investment opportunities for clients across the U.S.
"Buyers could not get what they wanted in Arizona," Davis explained. "So many people in California are selling their assets and looking to place their money in Arizona. There is such a demand here. From warehouses to essential retail space and 1031 Exchange investments to cash deals, we guided our clients through it all in 2020."
The Valley's commercial real estate entered 2020 with tailwinds from a robust 2019. Then COVID-19 wreaked havoc on most every industry in Arizona and the U.S. During a time of year when most people avoid the Arizona heat, the pandemic drove an
abnormally high percentage of emigration out of major urban centers like San Francisco, Los Angeles, Chicago, and the Greater Washington D.C. Area to small and medium-sized cities like Scottsdale, Arizona; Durham, North Carolina; and Columbus, Ohio, Davis said. Entrepreneurs moved to Arizona from other suffering cities.
In September, another monumental shift happened. Commercial real estate investors were making similar choice as businesses and relocated their assets.
"In the Great Recession, investors wanted internet resistant, now they seek essential businesses that won't ask for rent relief during government lockdowns," Davis said.
A few investments that met those criteria are:
1031 Lightshade, Denver, Colorado $13.5 million, industrial warehouse, moving assets out of California;
1031 Tender Corp., Littleton, New Hampshire, $8 million, industrial warehouse, moving assets out of California;
1031 multi-tenant warehouse, Union Hills, Tennessee, $1.8 million, moving assets out of California;
1031 Dutch Bros, Las Vegas, Nevada, $2.25 million essential retail, moving assets out of California;
1031 Meineke, Las Vegas, Nevada, $1.75 million, essential retail, moving assets out of California;
1031 Value Truck, Buckeye, Arizona, $1.9 million, industrial, 7-acre truck stop.
"Arizona's for sale inventory over the past 18 months, investment or owner/user, has been slim to nil. For businesses who want to control their destiny and stop leasing, purchase options are a challenge to come by," Davis said.
"It's the first time in 20 years of experience that multiple buyers are writing full price offers within days of a new office listing. Of course, this is a win for sellers, but a test of patience for buyers," she said.
Notable Arizona closings in 2020 include 7302 E. Helm, which sold above asking; 11110 N. Tatum, which sold at full price; 8144 E. Cactus closed in two weeks; 8601 Butherus, a leading comp in the complex.