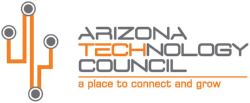 Shining a spotlight on how innovations in science and technology are created and applied to build a sustainable economy for Arizona's future, the Arizona Technology Council in conjunction with the Arizona Commerce Authority, announced the winners of the 2013 Governor's Celebration of Innovation (GCOI) Awards  presented by Avnet, Inc. This prestigious annual gala and awards ceremony was held at the Phoenix Convention Center.
"As we begin to see improvements in the economy, innovation is more important than ever," said Steven G Zylstra, president and CEO of the Arizona Technology Council. "It is essential that we celebrate the creative spirit of Arizona by recognizing and honoring the state's most innovative thinkers. We congratulate all the winners and extend our thanks for their part in advancing Arizona as a top-tier technology state."
The winners and finalists were evaluated and chosen by a selection committee of experts independent of the Council. Committee members included:
Hunter Bennett, OneNeck IT Services
James Goulka, Arizona Technology Investor Forum (ATIF)
Dr. Mani Janakiram, Intel Corporation
Bill Loux, Arizona Technology Enterprises (AzTE)
Mary O'Reilly, PhD, CEM, Science Foundation Arizona
Bob Rasmussen, Honeywell Aerospace
The winners in their respective categories are:
Company Award Winners:
"It's an honor to congratulate this year's winners and to celebrate their ongoing corporate excellence," said Sandra Watson, President and CEO, Arizona Commerce Authority.  "More than ever, companies are expanding to Arizona because of our concentration of high-tech talent and portfolio of successful technology companies. The hard work of these individuals, and the companies they represent, continues to position our state as a leader in technology and innovation."
Tech Ten Legislators:
The Tech Ten awards were given in recognition of Arizona state legislators who have demonstrated outstanding support for promoting and advancing Arizona as a top-tier technology state. Separate awards for "Senator of the Year" and "Representative of the Year" were also presented:
Outstanding Tech Senator of the Year Award Winner: Senator Bob Worsley
Outstanding Tech Representative of the Year Award Winner: Speaker of the House Andy Tobin
The winning Tech Ten legislators are:
Arizona State Senate: Senator John McComish; Senator Don Shooter and Senator Steve Farley.
Arizona House of Representatives: Representative Chad Campbell; Representative Ruben Gallego; Representative Bruce Wheeler; Representative Heather Carter, Representative Jeff Dial; Representative Tom Forese and Representative Thomas "TJ" Shope.