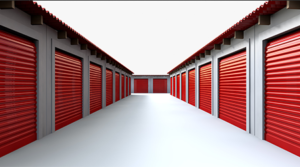 In 2021, both the volume of self storage sales and the total square footage transacted in Tucson were at least double the previous year's figures – over 472K sq. ft. of self storage space were transacted for $68M.
StorageCafe is reporting self storage is considered an essential service and benefiting from strong consumer demand even in pandemic times, the self storage industry is now experiencing a boom in terms of investment opportunities. In fact, in 2021, both the volume of self storage sales and the total square footage transacted were at least double the previous year's figures.
Around 108 million square feet of US self storage space changed hands in 2021, twice the 54 million square feet transacted in 2020. This was distributed across 1,525 facilities, compared to 862 properties in the previous year. According to data from Yardi Matrix, the total sales volume in 2021 increased to $10.9B, up no less than 161% from 2020. New York City once again saw the highest sales volumes, with almost 3M square feet in Manhattan alone accounting for around $3B in sales, dwarfing the $483M seen across The Big Apple in 2020.
Cities such as Phoenix and Tampa also proved to be hotbeds for self storage investors in 2021, reflecting the strength of the sector in places experiencing rapid economic and demographic growth.
Manhattan and Florida cities lead the nation's self storage market
Most of the self storage transactions in Manhattan were large, six of them having more than 200K square feet of space. They were part of a huge deal in December 2021 when StorageMart bought Manhattan Mini Storage's facilities from Edison Properties, who were realizing liquidity after a period of strong performance. Almost half of these cost over $1,000 per square foot, while the two with the highest value — in the Tribeca and Lenox Hill neighborhoods — both changed hands for more than $300M. The high average cost per square foot of $992 in Manhattan makes the total sales volume there much greater than anywhere else in the country.
New York City also witnessed pricey transactions in the borough of Queens, where 342,488 square feet changed hands for a total of around $144M.
Florida has the most entries in our top ten of cities by total sales volumes in 2021. Tampa saw no fewer than 13 transactions (1.1M square feet), with nine of them accounting for almost $100M. Of the 11 transactions Orlando recorded in 2021 (932K square feet), eight totaled around $90M. Miami self storage saw less market activity, with five properties (4.87K square feet) changing hands.
Cities in Arizona, Bay Area and the DMV high in list of largest sales volumes
In terms of total sales volume, self storage in Phoenix, Arizona, was second to Manhattan — a distant second — seeing 12 facilities transacted for around $180M in 2021. Arizona's second-largest city, Tucson also makes the top 10 for sales, with seven properties being exchanged for more than $68.3M.
The other cities featured in our top 10 include Millbrae in the San Francisco Bay Area of California, where 85K square feet were sold for $80M, the highest price outside of New York City. Fairfax, VA, near Washington DC, witnessed transactions totaling 328K square feet to achieve 4th place. Meanwhile, self storage in Charlotte, NC, saw seven transactions, including two of more than $20M.
StorageMart joins REITs as biggest self storage investors
Several REITs were involved in purchases across the nation. However, the biggest purchase was made by one of the US's largest privately-owned self storage operators, who bought the facilities of Manhattan Mini Storage, New York City's largest storage space provider up to that time.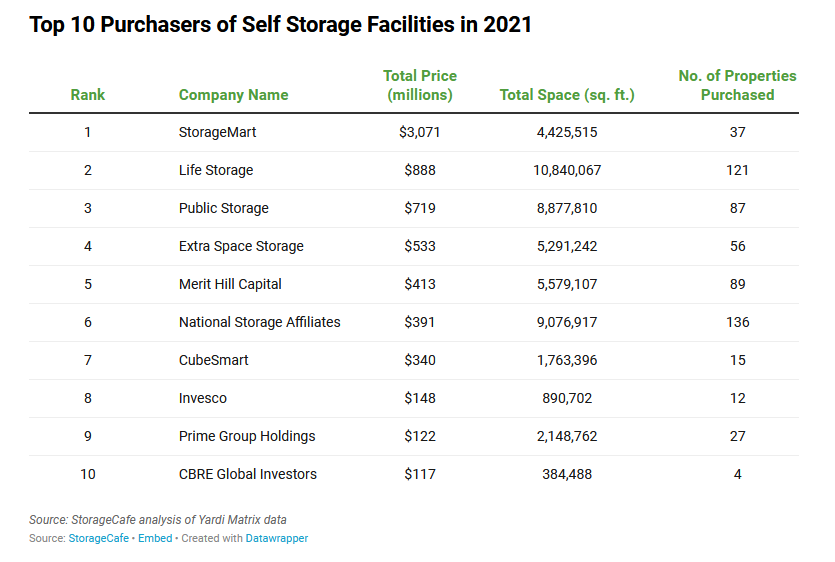 StorageMart made far and away the largest self storage investment in 2021, including huge spending of around $3B for 18 properties in Manhattan alone. Half of their other — much smaller — transactions were made in Wisconsin. In total, it purchased 4.42M square feet of storage space. The company, operating out of Columbia, Missouri, is one of the largest privately-owned self storage providers across the globe, with a large presence in Canada and a recently acquired foothold in Europe.
REITs accounted for the next highest totals of 2021 self storage investments. Life Storage is the US's 4th largest owner of self storage units in the United States, and bought 121 facilities (10.8M square feet), focusing mostly on Florida and Georgia. Meanwhile, Utah-based Extra Space Storage, bought 56 properties (5.3M square feet), also concentrating on Florida. Public Storage spread their $719M spending on 719 properties (8.9M square feet) distributed more widely across the country.
Merit Hill Capital almost doubled their self storage investment of $209M for 50 properties in 2020 to $413M in 2021, while National Storage Affiliates spent $391M. They made purchases all across the nation in 2021, buying 89 and 136 properties, respectively, totaling 5.6M and 9.1M square feet. CubeSmart after spending $660M on 29 properties in 2020, including a huge investment in New York City self storage, this year only spent a little over half that, on 15 properties (1.8M square feet) on the eastern seaboard and in the Midwest.
Rounding out our top 10 are the investment companies Invesco and CBRE Global, headquartered in Atlanta, GA, and Dallas, TX, respectively, and Prime Group, who focus entirely on self storage and are one of the US's biggest private owner-operators of self storage facilities. These three companies all bought facilities across the western states of California, Oregon, Washington, Arizona and Colorado. The costliest transactions were in Solana Beach and Vista in California and Bothell and Lake Stevens in Washington, with prices ranging from $30.2M to $48.5M.
Developers throttle back, but some cities buck the trend: Southern cities lead self storage construction
Not only has the self storage market been seeing plenty of sales activity, but developers were also busy last year, although some cities saw development slowing down due to the effect of oversupply. No less than 36 million square feet of storage space were delivered in 2021. And self storage street rates have certainly more than held up, with the cost of a standard non-climate-controlled 10'x10' unit averaging around $128 in January 2022, which is a 7% year-over-year increase, per Yardi Matrix data.
Generally speaking, the southern half of the country was hosting the most vigorous construction activity during the past year. Major cities in Florida and Texas joined fast-growing Phoenix and Las Vegas in the Southwest in building a lot more self storage.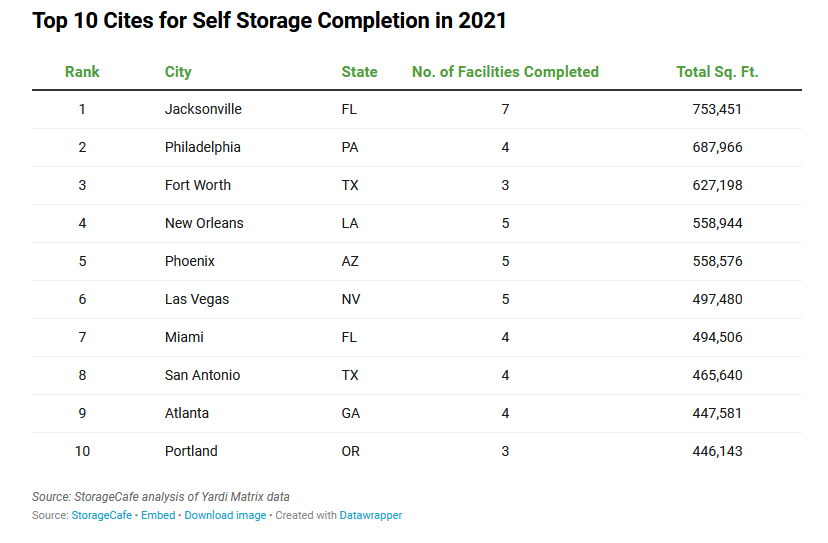 With seven completed facilities having a combined storage square footage of 753,451, Jacksonville, Florida, had the highest level of self storage development activity in 2021 — a big jump from the 68th place it achieved in 2020. The largest of these were a 104K square foot Public Storage facility and a 93K square foot Extra Space Storage, both priced at around $20M. The average size of these facilities was 108M square feet.
The next largest city total of storage space completed was 687,966 square feet in Philadelphia, Pennsylvania, with over four facilities at a high average size of 172K square feet each. Philly achieved only 34th position in 2020. Fort Worth goes even larger, as you might expect in Texas, with its three facilities completed in 2021 averaging 209K square feet each — it remains in the top three, having been in second place in 2020.
New Orleans and Phoenix both built more modest facilities in 2021, five of them each, averaging about 112K square feet. For the former this represented a huge leap from 131st place in 2020, while for the latter it was a drop from 1st place. Las Vegas also built five facilities, with an average of 99K square feet, while Miami, San Antonio and Atlanta built four facilities each with averages of 124K, 116K and 112K square feet, respectively. Portland constructed its facilities larger at an average of 149K square feet. The cities were also in the top 10 in 2020.
Some cities are catching up in terms of self storage. New York has traditionally been undersupplied, and still offers only 3.5 square feet per person, as per Yardi Matrix data. A 10'x10' storage unit currently rents for an average of $190 in Metro New York, and it tends to be much more in Manhattan. It is no wonder the place is attracting self storage investors.
On the other hand, the metropolitan areas centered on Phoenix and Tampa, for example, offer more than double the storage space per capita, and 10'x10' unit street rates of $123 and $118, respectively. But despite such markets being fairly well penetrated and offering reasonable rents, street rates for a range of self storage units are currently going up by around 10% in these places, and in many other large US cities too.
All in all, 2021 was a banner year for the self storage sector. Not only was the year's total sales volume more than two and a half times the previous year's but it also dramatically bucked a trend. 2020 saw roughly the same total sales volume as 2019 and was slightly down on the corresponding figure from 2016. And now that a diverse range of people have experienced the benefits of renting storage due to altered circumstances, there is confidence to believe that the industry will remain strong during this year as well.