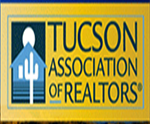 The Tucson Association of REALTORS® (TAR) has honored its top-performing members of 2015, recognizing 13 individuals and companies for their outstanding achievements. The association's award winners were:
REALTOR® of Year: Pam Ruggeroli, Long Realty Company
Recognizes an individual member who contributes to TAR and the overall real estate industry as a strong leader and an asset to the general community.
Ruggeroli, a TAR Director, chaired the Forms Task Force and is a key participant and financial supporter of RAPAC (REALTORS® of Arizona Political Action Committee). At the national level, she is a President's Circle Major Investor on behalf of the REALTOR® party. She also serves as a CRS Ambassador (Certified Residential Specialist). CRS is the highest credential awarded to agents.
Her involvement and fund-raising efforts for TAR included the Tucson REALTORS® Charitable Foundation Annual Softball Tournament and the annual Stuff the Bus school supplies event. She is TAR's 2016 president-elect.
In the community, Ruggeroli is an Associate Board Member of the Boys and Girls Club of Tucson and a member of Creative Leads Exchanges and Referrals (CLEAR). She also raises funds and volunteers for the American Heart Association Heart Ball and the American Cancer Society Gala.
Affiliate of Year: Rhonda Argueta, V.I.P. Mortgage
Affiliates are non-REALTOR® members and key supporters of TAR, honored for serving with leadership and distinction.
As V.I.P. Mortgage's lead liaison to TAR, Argueta was honored for her dynamic involvement in the real estate industry. V.I.P. Mortgage is a vital participant and financial supporter of TAR, relying on Argueta to lead its sponsorship/partnership efforts at various educational classes, member programs, trade shows and events.
She was honored specifically for her high-energy focus on TAR's Green Forum. She helped to upgrade the Forum's presentations and effectiveness in reaching members. Argueta has been a TAR member since 1992 and has volunteered for Angel Charity since 2003. She is a past president of WCR (Women's Council of REALTORS®).
Outstanding Service Award: Sue Cartun, Keller Williams Southern Arizona; Cathy Erchull, Tierra Antigua Realty; Steve Redmond, Long Realty Company
Recognizes individuals who serve TAR and the broader industry with distinction.
Cartun, Designated Broker and Operations Manager of Keller Williams Southern Arizona, is a past president of TAR and TAR/MLS (Multiple Listing Service). She is a RPAC major investor and was named "one of 500 most powerful women in real estate" by National Relocation and Real Estate magazine.
Erchull, Sales Manager for Tierra Antigua Realty, supervises over 150 agents in addition to attending to her own clients. She is the incoming 2016 TAR/MLS president and a graduate of the Real Estate Institute
Redmond, TAR President in 2014, continued to serve the association by chairing and participating in several committees and new initiatives. Most notably, he led the Selection Committee that brought in new TAR CEO Marc Lebowitz.
Drachman Community Achievement: Nikki Halle, Russ Lyon Sotheby's International Realty
Recognizes a REALTOR® for community service and involvement that advances the profession. It honors Roy Drachman, an eminent Tucson REALTOR®, innovative commercial developer and generous philanthropist.
As the founder of H2H (Homeless to Homeowner grant program), Halle has helped raise over $18 million for underserved people in southern Arizona. She has served on the board of the Hearth Foundation and chaired fundraising events for New Beginnings. Her other volunteer leadership has helped to support Habitat for Humanity, Community Foundation of Southern Arizona, Pusch Ridge Christina Academy and Community Food Bank.
For her family's Diane and Bruce Halle Foundation, she serves as a trustee. She is a two-time recipient of the Spirit of Philanthropy award.
Corporate Community Achievement Award: Recognizes brokerages that demonstrated exemplary commitment to the community.
Coldwell Banker Residential Brokerage (under 50 agents)
Tierra Antigua Realty (50 to 300 agents)
Long Realty Company (over 300 agents)
Coldwell Banker: The focus of Coldwell Banker Charities in 2015 was to support and care for dogs and cats, a big part of turning a house into a home. To benefit the Southern Arizona Humane Society and associated animal shelters, over 5,000 pounds of dog and cat food was collected.
Coldwell Banker Residential Brokers was a Gold Paw sponsor for the Handi-Dogs Dogtoberfest, a fundraising event for Handi-Dogs.org. In addition, the company launched its Homes for Dogs Project and partnered with Adopt-a-pet.com to help 20,000 dogs find homes.
For the Ronald McDonald House Charities, Coldwell Banker supported its Dinner nights by shopping, preparing and serving meals to families with children in the hospital.
Tierra Antigua Realty: Employees and owners Kim and Matt Clifton had a very active year of community service. Its charitable cornerstone is The Tierra Antigua Realty HOPE Foundation that focuses on helping people living below the poverty level with food, clothing, shelter improvement and other necessities.
Overall, the company's support touched: Ronald McDonald House with funding and meal preparation and serving; The Centurions as an ongoing sponsor; Casa Maria Soup Kitchen with funds and resources; and The Arizona Young Adult Program to assist 16-to-20 year olds who live on their own. The Cliftons host a holiday party for some 250 of these young people, providing meals, clothing, blankets and gifts.
Through the years, the company also has supported: New Beginnings; American Cancer Society; Angel Charity; Our Family Services; Tucson REALTORS® Charitable Foundation; Public Safety and Charitable Foundation; and Tucson Audubon Society.
Long Realty Company: Its charitable efforts are through the Long Realty Cares Foundation, supported heavily by volunteer donations from its employees and agents.
The Foundation earned the prestigious Ray Davies Lifetime Achievement Award this year from the Education Enrichment Foundation for its support of education and outreach programs.
For five years, the Foundation sponsored the Primavera Cooks fundraising series. Since 2002, it has sponsored the Festival for Life that benefits the Southern Arizona AIDS Foundation. Long's other civic support included: Treasure 4 Teachers; HOPE Animal Shelter; and sponsorship of the Tucson Pops Orchestra and the inaugural Tucson Jazz Festival.
Through September, the Long Realty Cares Foundation had donated over $110,000 to 50 different local Through September, the Long Realty Cares Foundation had donated over $110,000 to 50 different local organizations. Since its inception in 2002, total support of local charities is now $2.5 million.
Johnoff Community Achievement: Guild Mortgage Company
Recognizes an Affiliate company and its employees in community service and involvement in TAR. Florence Johnoff was the association's first woman president and a leader in civic service.
Guild Mortgage focused on family this year to participate in and support two key non-profit events. For the Annual Autism Walk, the company sponsored the T-shirts and had over 50 people representing Guild Mortgage participate in the event. To support children in need, it sponsored the Joseph Blair Putt-Putt event.
Committee of Year: Green Forum; Young Professional Network (YPN) Task Force
Recognizes TAR's top-performing committee of volunteers who advance the association's goals.
Green Forum: Co-chaired by Carolyn Minor (RE/MAX Results) and Constance Negley (Tierra Antigua Realty), this group took responsibility for keeping members informed on Green issues and the impact of sustainability on the real estate industry.
YPN Task Force: Chaired by Jessica Alvarez (Title Security Agency), this group provided the resources and encouragement for young real estate professionals to excel in their careers. Their activities focus on education, volunteering and networking.
Rookie of Year: Marco Flores, Cobb Realty
Recognizes an individual who has been a REALTOR® for two years or less and has earned or is working toward a national certification/designation.
Flores was honored for building his business "from the ground up," having entered the real estate profession with no inside contacts. He achieved this by knocking on doors, passing out thousands of flyers, making cold calls and through open houses. In his first year in the business, he will close nearly 40 home sales. He has achieved five national designations and is serving on two TAR committees.
The Tucson Association of REALTORS® (TAR) represents the interests of some 4,800 professionals in Southern Arizona as the voice of the real estate industry. The REALTOR® trademark is for use only by members of the National Association of REALTORS®.