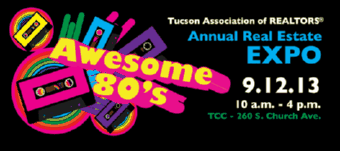 The Tucson Association of REALTORS® annual Expo, Southern Arizona's largest real estate trade show will be held Thursday, September 12 from 10 a.m. to 4 p.m. Representatives from local, state and national real estate related businesses will be under one roof, for one day showcasing their services and products. The Tucson Association of REALTORS® is the largest trade association in Southern Arizona, representing the interests of over 4,800 professionals in the real estate industry.
When: Thursday, September 12, 2013 from 10 a.m. to 4 p.m.
Where: Tucson Convention Center Exhibition Halls, 260 S. Church Ave.
HERE ARE THE TOP 5 REASONS TO ATTEND:
(1.) Free parking at Tucson Convention Center Exhibition Halls, 260 S. Church Ave
(2.) Free admission.
(3.) National speaker (free seminar). Education Class (free) 9 a.m. to 12 p.m.
National Speaker: Darryl Davis "How To Become a Power Agent in Real Estate"
This is one seminar you don't want to miss. Based on the #1 Best-selling real estate sales books according to Amazon.com, you will learn the listing and selling techniques that have           helped thousands of agents doubled their production over their previous year. Darryl Davis spoke for our Association in 2012, and because of the rave reviews, we are very excited to bring him back.
(4.) The theme is "Awesome 80's." with lots of friendly competition between exhibitors for best booth.
(5.) Network with your peers! All of Tucson's real estate industry will be under ONE roof, for ONE day!
Details on FREE Parking - Once inside the Exhibit Hall building, the entrance to the Expo can be found on the east side. Due to construction both at the TCC and downtown, the easiest place to park at the TCC will be Lot A off of Church St. If that is full, park in Lot B off of Cushing St. Downtown Tucson Construction
The escalators that lead in to the Exhibit Halls are currently under construction. You will need to use the stairs or elevators to access the event. Once you are inside the building where the Exhibit Halls are, you'll find the entrance to the Expo towards the east side of the building.
2013 Exhibitors/Booth #'s:
2-10 Home Buyers Warranty - 215
American Family Insurance - 102
American Home Guardian- 701
American Home Shield - G
Arizona Association of REALTORS® - 503
Arizona CRS Chapter - 502
Arizona Daily Star - 106
Arizona Eagle Realty - 123
Arizona Imprintables- 405
AZ State Credit Union - 302
Bancapital Home Loans - 312
Bank of America Home Loans - 715
BMO Harris Bank - 423 and 522
Burns Pest Elimination - 205
Chase - 800
Cloud CMA - 122
Coco-lat Truffles - 615
Cool Box/ A Family Discount Storage - 204 Coldwell Banker Residential Brokerage - 702
Creative Awards, Inc. - C  
*Copper Sponsor* CRS Data - F
Cutco Closing Gifts - 622
Derrick Polder with the Presidential Team at NOVA Home Loans - 723
Desert Sun Moving - 104
DM Lovitt Insurance Agency - 605
D.R. Horton - 107 and 206
DSR Pest Management, LLC - 718
Expert Solar - 202
Family Housing Resources - 203
Fairway Independent Mortgage 623/722
*Silver Sponsor * FBS - creators of flexmls - 501 and   600
Fidelity National Home Warranty - 404
Fidelity National Title - 402
First American Title Insurance - 507 and 606
First American Home Warranty - 607
Gold Coast Mortgage - 711
Greg Smith & Associates - 304
Green Tree - 616
Guaranteed Rate - 120
Guild Mortgage Company - 601 and 700
Genuine Photogprahy/Xtreme Clean - 719
Hogan School of Real Estate - 303
Homes & Land and Estates & Homes - 200
HomeSmart Advantage Group - 706
Hughes Federal Credit Union - 613 and 712
imortgage - 314
*Gold Sponsor* Jim Click & Holmes Tuttle   Automotive Team - 407 and 506
Keller Williams Southern Arizona - 323 and 422
Landmark Home Warranty - 101
Lennar - H
Long Companies - 713 and 812
Lowe's TurnAround Home Services LLC - 105
Liberty Mutual - 110
Maracay Homes - 618
Meridian Relocation Systems - 113
Metro Title Agency - 517 and 519
Movement Mortgage - 115
National Bank of Arizona - 316
National Home Warranty - 318
*Silver Sponsor* NOVA® Home Loans - 301 and 400
Northwest Power Group - 504
Meridian Relocation Systems - 113
Meritage Homes - 214
Old Republic Title Agency/Old Republic Home Protection - 602 and 604
** TITLE Sponsor ** Pima Federal Credit Union - 307 and   406
*Gold Sponsor* Point2 - 207 and 306
Guild Mortgage - 601 and 700
Peoples Mortgage - 103
Pillar to Post Home Inspections - 705
Proforma Printing & Promotional Products - 305
Prudential Foothills Real Estate - 401 and 500
Silverado Plumbing - 119
Spartan Promotional Products, Inc - 603
Spectrum Printing Company - 117
Stewart Title - 617 and 619
Sunstreet Mortgage, Inc. - 505
*Copper Sponsor* Supra - I
Real Property Management Rincon - 114 and 116
*Copper Sponsor* Realtors Property Resource - 112
Realty Executives Tucson Elite - 513 and 612
*Copper Sponsor* Realty ONE Group Great American - 805   and 807
*Copper Sponsor* RE/MAX - 118
Residence Inn By Marriott - 523
Richmond American Homes - D and E
Roofsavers Locke Roofing - 219
Signs Now Tucson/Real Estate Sign Post Co - 806
Suddath Relocation Systems - 707
*Copper Sponsor* Team Ayala - NOVA Home Loans -   815
TAR Green Forum - 714
The Hearth Foundation - 223 and 322
Title Security Agency - 216 and 218
Tom Tatro State Farm Insurance - 614
TOP GUN REALTY - 108
Tierra Antigua Realty - 201 and 300
Tucson Beyond Business Networking Group - 217
Tucson Clean & Beautiful - 403
Tucson REALTORS® Charitable Foundation - 817
Vantage West Credit Union - 704
*Networking Lounge Sponsor* V.I.P. Mortgage - 515
Volpe Team - NOVA Home Loans - 222
Washington Federal - 100
Wells Fargo Home Mortgage - A and B
WIN Home Inspections - 213