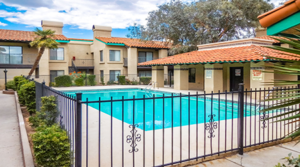 TUCSON, Arizona — ABI Multifamily, the Western US's leading multifamily brokerage and advisory services firm, is pleased to announce the $1.85 million / $57,813 per unit sale of the 32-Unit Villa Delano Apartments at 123 West Delano Street in Tucson, AZ.
The property is a garden style apartment community originally built in 1980 of frame/stucco construction and sits on 1.4-acres of land near the intersection of Fort Lowell and Stone Ave.  Villa Delano has four, 2-story buildings featuring all 2-bedroom, 2-bath units with a weighted average size of 878-square-feet.  The property also features a community swimming pool, BBQ grill area, and laundry facility.
"The Buyer was in search of a stable asset with upside potential," states Lance Parsons, Senior Vice President at ABI, who represented the Seller.  "The entire Downtown/University area submarket has witnessed sustained private and public investment over the last several years.  The Buyer hopes to capitalize on this growing trend."
The Buyer in this transaction is a private individual based in Arizona.
The Seller in this transaction is a private individual based in Colorado.
ABI Multifamily's Tucson office, and the multifamily brokerage team of Lance Parsons, Jonathan Ibrahim and Ryan Kippes, represented the Seller in this transaction.
For more information, Parsons should be reached at 520.265.1945,  Ibrahim is at 520.265.1127 and Kippes can be contacted at 520.265.1895.