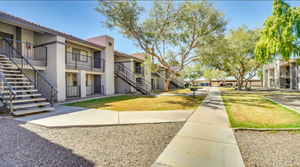 Phoenix, Ariz. – ABI Multifamily has announced the $10,750,000 / $91,880Per Unit / $116.80 Per SF sale of South Mountain Square in Phoenix, Arizona.
South Mountain Square is a 117-unit garden-style apartment community near 16th Street and Baseline Road, conveniently located near Phoenix South Mountain Park/Preserve and luxury golf locations, as well as gated single-family residential communities, multiple retail outlets, restaurants and service providers.
Completed in 1986, South Mountain Square features new roofs, paint and a mix of lightly upgraded units and provides an exceptional value-add opportunity through interior and exterior improvements. Adding to its appeal, the development features an outstanding mix of 60 1-bed / 1-bath and 57 2-bed / 2-bath units, all with second-floor vaulted ceilings. The average unit size is 787 SF.
"The South Phoenix submarket is really gaining momentum, and South Mountain Square presented an ideal value-add opportunity for both our client and the Seller," said ABI Multifamily Partner Eddie Chang, lead broker for the team representing the Buyer. "The property is located near Mountain Preserve, Raven Golf Club, South Mountain Community College and serviced by quality retailers such as Target, LA Fitness, Petsmart, Chase, Fry's Food, Chipotle and The Farm, to name a few. When you take what South Mountain Village has to offer and combine it with the area's existing benefits and the massive infrastructure investments currently being planned, it really represented an exceptional value."
The Buyer is an Arizona based private investor. The Seller is Caliber Services LLC, a private investment group based out of Arizona.
The Buyer was represented by the multifamily brokerage team of Eddie Chang, John Kobierowski, Alon Shnitzer, Rue Bax and Doug Lazovick.