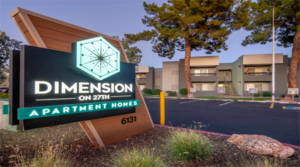 PHOENIX (January 25, 2023) – ABI Multifamily, the leading multifamily brokerage and advisory services firm in the Western US, is pleased to announce the $49,750,000 / $191,346 Per Unit / $281.24 Per SF sale of Dimension on 27th Apartment Homes, a 260-unit multifamily apartment community located in Phoenix, Arizona. ABI Multifamily's Phoenix-based Institutional Apartment Group - Alon Shnitzer, Rue Bax, Eddie Chang, and Doug Lazovick represented the buyer and seller in this transaction.
The buyer is based in California and the seller is based in Arizona.
Dimension on 27th Apartment Homes is a 260-unit garden-style apartment community in the West submarket of Phoenix, Arizona. Built in 1982, the property consists of 23 rental buildings constructed of wood frame and flat roofing, resting on an 8.35-acre site. The unit mix consists of 57 studio units, 119 one-bedroom / one-bathroom, and 84 two-bedroom / one-bathroom units with a weighted average of 680 square feet. Common area amenities include a swimming pool, playground, laundry facilities, and on-site maintenance. Residents enjoy interior amenities such as stainless-steel appliances, vinyl wood flooring, and a patio / balcony.
Dimension on 27th Apartment Homes is in close proximity to a multitude of major transportation corridors such as North Black Canyon Freeway (Interstate-17), the Papago Freeway (Interstate-10), and Grand Avenue (Highway 60), providing residents easy access to the entire Phoenix Valley. An abundance of dining and entertainment options are just a short drive away at Uptown Plaza, at the intersection of Camelback Road and Central Avenue, where residents have ready access to desirable restaurants such as Postino's, The Windsor, Federal Pizza, Joyride Taco House, Shake Shack, Lou Malnati's Pizzeria, and Flower Child, among many more. The nearby 7th Street Restaurant Corridor also offers iconic dining options such as Culinary Dropout, Bevvy Uptown, Pita Jungle, and Spinato's Pizzeria.
The property is situated near the burgeoning Grand Canyon University, which has been a boom to the area as the school has invested more than $1 billion in infrastructure since 2009 which includes laboratories, libraries, student support centers, residence halls, and recreational facilities. According to fall 2022 enrollment data, traditional enrollment is reported as approximately 25,000 and the total student body amounting to nearly 115,000 (25,000 campus and 90,000 online enrollments) across all of its program offerings.
Significant employers in close proximity to the property include Grand Canyon University, Kenyon Plastering Inc, as well as numerous companies located in Midtown, Downtown, and the Camelback Corridor, as well as Banner Health, St. Joseph's Hospital, U-Haul International, Wells Fargo, JP Morgan Chase, and Phoenix Children's Hospital.
ABI Multifamily (https://www.abimultifamily.com/) is a brokerage and advisory services firm that focuses exclusively on apartment investment transactions. With offices in Phoenix, Las Vegas, San Diego, and Tucson, the experienced advisors at ABI Multifamily have completed billions of dollars in sales and thousands of individual multifamily transactions. ABI Multifamily incorporates a global approach with regional real estate expertise to successfully complete any multifamily transaction, regardless of size and complexity.