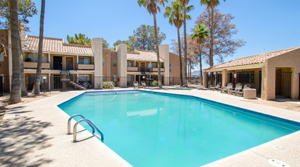 Phoenix, Arizona  — ABI Multifamily is pleased to announce the $3.9 million  / $46,428 per unit sale of the Casa del Norte Apartments located at 3802 N Flowing Wells Road in Tucson, Arizona.  Casa del Norte is a two story, garden-style apartment community, built in 1984 and rests on approximately 2.77 acres.  The frame and stucco constructed property boasts an attractive unit mix of (16) Studios, (28) one-bedroom and (40) two-bedroom units with a weighted average size of 525 square feet.
"Tucson, as a whole, is receiving tremendous investor interest from across the country and world for that matter due to both sustained jobs and population growth," states Ryan Kippes, Vice President, and lead broker for both the buyer and seller in this transaction.  "On the jobs front, we've had several high-profile job announcements over the last six months, from Amazon to Raytheon to the more recent, Axiscades of India bringing hundreds of high wage jobs.  This type of economic activity, coupled with very little new construction, will continue to be a huge draw for investors.  The buyers, private investors out of Oregon, California and Arizona, have been seeking to expand their Tucson multifamily footprint since entering the Tucson market in 2017."
There were three individual buyers from Oregon, California and Arizona.
The seller is a private California-based investor.
For additional information, Kippes can be contacted at 520.265.1895.