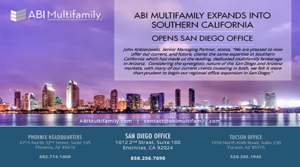 Phoenix, AZ – ABI Multifamily, Arizona's largest locally-owned, dedicated multifamily brokerage and advisory firm, is pleased to announce its regional expansion with the opening of the San Diego, CA office. John Kobierowski, Senior Managing Partner, states:
Considering the synergies between the San Diego and Arizona markets, with many of our current clients investing in both areas, we feel it's an opportune moment to begin our regional office expansion in San Diego. We are pleased to be able to offer our clients in Southern California the same high level of service and expertise that has made us the leading dedicated multifamily brokerage in Arizona, and look forward to fostering new relationships in San Diego and surrounding areas.
With its expansion into San Diego, ABI Multifamily is now the Southwest's fastest growing multifamily brokerage company. From its creation in 2013, by industry leading advisors, ABI has become Arizona's, and now the Southwest's, leading exclusively multifamily brokerage and investment services provider. By leveraging cutting-edge technology, with internal proprietary systems and external resources, hiring the multifamily industry's best and brightest brokers and staff, the company has experienced tremendous growth and received numerous industry awards, including CoStar's 2015 Power Brokerage. ABI has become a leading resource of information for journalists, government officials and multifamily stakeholders in the markets in which it operates.
ABI Multifamily is the Southwest's leading brokerage and advisory services firm that focuses exclusively on apartment investment transactions. The experienced advisors at ABI Multifamily have completed billions of dollars in sales and thousands of individual multifamily transactions. ABI Multifamily incorporates a global approach with regional real estate expertise to successfully complete any type of multifamily transaction, regardless of size and complexity.