TUCSON, Arizona – Academy of Math and Science (AMS) recently purchased two locations for campus expansion. The property at 1611 – 1625 West Prince Road in Tucson was sold for $503,760 ($97 PSF) by Barnett Brenner and 425 West Valencia sold for $690,000 ($145 PSF) by BM Valencia.
Both were purchased for expansion of adjoining Academy of Math and Science charter school campuses.
The property on West Prince had been a BAP auto parts store for many years, with 17-foot clear height and a 2,600-square-foot mezzanine area in front. The 5,200-square-foot building was built in 1986 and includes a full security fenced yard.
The current AMS Prince campus is an award winning 2016 charter school, located across the street at 1557 W Prince Road.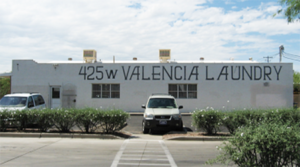 The second property located on Valencia east of 12th Avenue was owner occupied for many years as Valencia Laundry and seller had decided to retire. Built in 1963, the 4,754-square-foot building sits on a 1.2-acre lot and backs up to the current school campus at 434 West Lerdo.
AMS has these two locations in Tucson and two in Phoenix, with 2,500 students in grades Kindergarten through 12th enrolled. AMS vision was to create a school which offers a superior education in mathematics and science while still incorporating foreign language, music, and art.
Rick Kleiner and Isaac Figueroa with Cushman & Wakefield | Picor represented the school in these transactions and Steve Grimm with Grimm Commercial in Tucson represented the seller on the Valencia property.
For more information, Grimm should be reached at 520.795.5200, Kleiner can be contacted at 520.546.2745 and Figueroa should be called at 520.546.2743.
To learn more, see RED Comp #4803 and #4813.