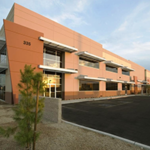 PHOENIX, AZ – Ace Vending, a full line vending service operator recently purchased two industrial buildings, one in Gilbert and another in Tucson. The company is privately owned and provides full service coffee, fresh food, snacks and beverage vending throughout the entire United States.
Ace Vending was founded in 1998 by Kevin Van Hazel, Wade Stooks and Chuck Walton. The three partners grew up together in Casa Grande Arizona and have been lifelong best friends. Ace Vending started in a garage in Phoenix Arizona with one vending machine, a pick-up truck and three strong backs. It has since grown into a nationwide company with thousands of accounts. Kevin, Wade, and Chuck still own 100% of the company and are proud to provide employment to many families in Arizona and across this great nation. Ace Vending is a great example of the American entrepreneurial spirit. Through hard work, integrity and innovation Ace Vending has become the best choice in Vending and continues to grow and prosper.
Cushman & Wakefield, announced that Ace Vending had purchased an industrial building at 335 S. Hamilton Court in Gilbert, AZ, for $3.6 million ($87 PSF). Last month the company also acquired a warehouse building at 1365 East Warehouse Avenue in Tucson, AZ for $225,000 ($38 PSF).
Andy Markham, SIOR, Mike Haenel, Will Strong and Phil Haenel of Cushman & Wakefield represented Ace Vending in the acquisition of the Gilbert property. Steve Larsen of Jones Lang LaSalle represented the seller, Arizona-based Bell Holdings BB, LLC.
"Ace Vending required a building that would accommodate its expansion and growing lines of business," Markham said. "This particular facility provided modern distribution features and room for future expansion, as well as desirable outside storage capacity."
The 41,490-square-foot building will be fully occupied by Ace Vending. The company will take occupancy of the property in stages during the fourth quarter of 2015.
The 6,000-square-foot warehouse steel building in Tucson will also be fully occupied by the company for warehouse space. Gary Emerson with GRE Partners represented the seller, an LLC formed by Walter Hoge, in the transaction and Chuck Corriere and Jessia Rubin with Keller Williams in Tucson represented Ace Vending.