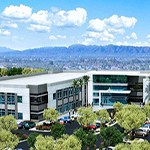 Harvard Investments, a real estate investment and development company with real estate holdings throughout the western United States and Lincoln Property Company (LPC) an international full service real estate firm offering real estate investment, development, design/construction management, leasing and property management/receivership/asset management services announced this week that Tempe-based photo-radar provider, American Traffic Solutions, will move its corporate headquarters and 600 jobs to a new office building planned at Mesa's Riverview complex by fall 2015.
"We welcome American Traffic Solutions, the national leader in its industry, to buildings planned by owner Harvard Investments and development partner LPC Waypoint and are thrilled the corporate environment we are creating resonates with their leadership team," said Craig Krumwiede, president of Harvard Investments. "We anticipate a great fit for their employees who will be within walking distance of the shopping center, restaurants, theater, park and Cubs stadium. The proximity to Arizona State University and Tempe Town Lake also add to the location's attraction."
The Waypoint project encompasses 19.5 acres directly east of Mesa Riverview, a 1.3 million- square-foot retail, hospitality and entertainment complex featuring over 20 dining options, 40 storefronts and a 24-Hour Fitness. Within the development, ATS will completely occupy Building One, a 108,000-square-foot space, while Building Two, a 150,000-square-foot space, is currently available for single- or multiple-occupancy lease.
"We're excited about this move and all of the amenities this location has to offer," said James Tuton, president and CEO of American Traffic Solutions. "This facility will not only be designed to meet the needs of both our Fleet Services and State and Local Government Solutions Business Units but allows us to do so under one roof."
ATS is the leading provider of traffic safety, mobility and compliance solutions for state and local governments, fleets, and rental car companies. ATS expects to move into the Waypoint project in November 2015 with more than 600 employees. ATS is relocating from its existing offices in Tempe and Scottsdale, Arizona with plans to add as many as 150 additional employees by 2017. A privately held company, ATS has grown significantly each of the past several years and forecasts continued growth for the future.
"Waypoint represents the new era of creative office building design," said David Krumwiede, executive vice president for Lincoln Property Company. "With large, open floor plans and high ceiling lines, the building will allow ATS employees to occupy their space in a myriad of ways – from expansive indoor workspace landscapes and more intimate "huddle rooms" – to shaded outdoor collaborative spaces."
Waypoint developer Lincoln Property Company is collaborating with The Davis Experience to create a "high-tech" aesthetic that extends from the buildings' exterior to the two-story lobbies. The façade will feature a multi-layered envelope of architectural cast concrete panels and high performance dual-pane aquamarine glazing. The interior entries will showcase clean lines, timeless materials, simple detailing, and the focal point – an open "floating" grand stair. Additionally, Waypoint features abundant parking, shaded amenity areas located around the office campus and the built-in amenity of Tempe Canal's multi-use path.
"This is exactly the type of development we want in Mesa," Mesa Mayor John Giles said. "High quality jobs, next to two freeways and lots of restaurants and shopping make Riverview an ideal location for employment centers like Waypoint. We hope to keep the momentum moving and see more well-planned developments like this throughout Mesa."
Just six miles east of Phoenix Sky Harbor International Airport, Waypoint is conveniently accessed via a half-diamond off Loop 101 at Rio Salado Parkway, as well as two full-diamond interchanges along the Loop 202 at Dobson and Alma School roads. Such accessibility makes the project one of the most desirable new office developments in the region.
"We anticipate additional interest from businesses looking to move to Waypoint and are thrilled for the nearly 1,700 jobs the project accommodates," said District 1 Councilmember Dave Richins. "The ongoing positive impacts this creates for nearby residents and business owners is especially exciting."
When completed, Waypoint will join an existing Hyatt Place Hotel and a 180-room, upscale brand Sheraton Hotel scheduled to open in March 2015. The hotels will include amenities such as full-service restaurants, bars, a swimming pool, a fitness facility and more than 30,000 square feet of meeting and event space.