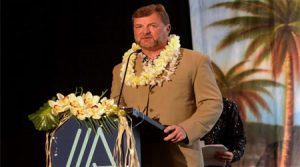 TUCSON, Ariz. (May 3, 2023) – The Arizona Association for Economic Development (AAED) presented the 2023 Economic Development Distinguished by Excellence (EDDE) Awards during its annual Spring Conference held in Tucson last week.
The EDDE Awards honor the best economic development practices for individuals, organizations and companies that have significantly contributed to the advancement of economic growth in the state. Recipients are selected from a pool of nominations made by members of AAED.
Overall, nine EDDE Awards – including a new member award, Emerging Leader – were presented to:
Economic Developer of the Year Award – Large Community: Micah Miranda, City of Chandler;
Economic Developer of the Year Award – Small Community: Una Wirkebau City of Winslow;
Economic Development Large Organization of the Year Award: City of Mesa;
Economic Development Medium Organization of the Year Award: City of Avondale;
Emerging Leader of the Year: Chad Schleicher, City of Tempe;
Member of the Year: Kristen Stephenson, CEcD, Greater Phoenix Economic Council (GPEC);
New Member of the Year: Ryan Jones, Yavapai College Regional Economic Development Center (REDC);
Workforce Practitioner of the Year: Jennifer Mellor, Greater Phoenix Chamber of Commerce.
The William Lampkin Award for Long-Term Excellence in Economic Development was awarded to Bill Jabjiniak, Economic Development Director, City of Mesa.
This award recognizes outstanding achievements by an individual that has made significant contributions to economic development efforts in Arizona and demonstrated a sustained commitment to AAED. Nominations are evaluated based on the overall economic impact of the individual's efforts to Arizona, the nominee's contributions to AAED, the development of strong relationships and community support, and contributions to the economic development profession.
Jabjiniak possesses more than 30 years of results-driven vision and leadership in revitalization strategies, public/private partnership opportunities, project financing, and business recruitment. He leads a team of 15 professionals focused on business attraction, retention and expansion, entrepreneurship and small business development, redevelopment, revitalization, and workforce development/talent attraction.
During his tenure, his team has assisted in creating and retaining more than 36,000 jobs, successfully leading more than 523 projects, and generating more than $17.4 billion in capital investment.
His team helped with numerous high-profile retention initiatives, including the Chicago Cubs and Oakland A's spring training operations; MD Helicopter's corporate headquarters and manufacturing facility; and expanding Banner Health's Desert Medical Center and Banner Children's at Desert Medical Center.
Under his leadership, several high-caliber entrepreneurship and small business development programs were launched that have included LAUNCHPOINT, Mesa's Technology Incubators, and Mesa Business Builder Small Business Assistance Program, both of which have assisted hundreds of companies grow and thrive in only the last few years.
At the onset of the pandemic, his team collaborated to save local businesses and developed a grant program to help businesses in need, granting more than $4.5 million to 525 businesses. Another 250 businesses were provided free technical assistance (valued at nearly $1 million) to promote resiliency and train businesses to operate in new ways. Part of the effort included the investment and build-out of HUUB – a digital platform that serves local businesses 24/7 providing access to training, education, webinars, and resource information – all free to local entities.
"With a vision from our elected officials and city management, Mesa is a community that is doing great things, and I'm very lucky to have that type of support," Jabjiniak said. "Since I've been in this position, everyone in the City of Mesa has been on the same page when it comes to getting things accomplished. I'm honored by this award and I share it with everyone involved in Mesa's success."
AAED Executive Director Carrie Kelly said the EDDE Awards truly recognize those bringing businesses to Arizona and creating jobs.
"These professionals and organizations can take great pride in knowing how impactful they are in helping to create and maintain Arizona's growing and vibrant economy," Kelly said. "AAED is proud to have each of them as members in our statewide organization, which supports them and their efforts."
PHOTO: Bill Jabjiniak receiving the William Lampkin Award for Long-Term Excellence in Economic Development