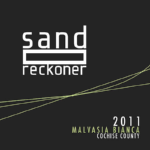 The Arizona Wine Growers Association (AWGA) is proud to announce Arizona was included the for the second year in the top 100 wines of 2013 coming from the West Coast and are the best in a generation.
In the other Whites category is the 2012 Sand-Reckoner Cochise County Malvasia Bianca ($28, 13.6%): For our second year with Arizona wine in the Top 100, we turn to Rob Hammelman, who made wine with St. Cosme's Louis Barruol in the Rhone before settling with his wife, Sarah, in Willcox. This aromatic grape could be Arizona's great hope, certainly based on Sand-Reckoner's efforts. A day soaking on skins and fermentation in old barrels provides the seriousness found in great dry Alsatian Muscat: intense blossom aromas, plus a chaparral-like woodsy side, rose petal and dried pear. It's densely flavored and bone-dry, full of rich orange and ripe tree fruit flavors.
This year's Top 100, which seeks the most outstanding wines in the West, celebrates bottles that are helping to change the conversation - toward a better understanding of what we can grow, and where it grows best. They all make a statement about what is possible. Full Article (San Francisco Chronicle, Dec. 2)
To experience Arizona wines, that have Californians talking, the public is invited to attend the AWGA signature event Wine in the Desert event this Saturday, December 14th from 3:00 pm to 7:00pm at St. Philip's Plaza, 4280 N Campbell Avenue in Tucson.
The purpose of this event is to raise awareness of and support for the Arizona wine industry's educational partners. Located at St. Philip's Plaza at the intersection of River and Campbell Roads in Tucson, this beautiful location is the center of a fantastic shopping center. The event will feature exclusive tastings from 15 of Arizona's vineyards and wineries; don't miss your chance to meet and mingle with Arizona winemakers! Funds raised through the Yavapai College Adopt a Vine Program and CALS' Arizona Wine Library Card Program will be returned to each institution directly. Tickets are $20 per person.