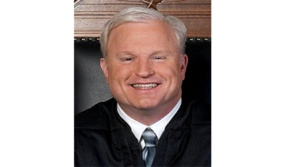 The Public is Invited to "Conversation with the Chief Justice" and Grand Opening of Juvenile Court Resource Center
Pima County – On Thursday, July 11, Arizona's new Chief Justice, the Hon. Robert M. Brutinel will spend the day at the Superior Court in Pima County.  Brutinel was sworn in as the 25th Arizona Chief Justice in a ceremony at the statewide judicial conference on June 21.
In honor of his appointment, the Hon. Kyle Bryson, Presiding Judge of Pima County, and Mr. Ronald Overholt, Superior Court Administrator, invite and welcome local media to attend a "Conversation with the Chief Justice" and Grand Opening of Juvenile Court Reseoruce Center.
Chief Justice Brutinel will introduce and take questions from media regarding the release of his five-year strategic agenda created for all Arizona courts, Justice for the Future; Planning for Excellence, a product of feedback from communities and individuals across the state.  The goals
Promoting Access to Justice
Protecting Children, Families, and Communities
Promoting Judicial Branch Excellence and Innovation
Enhancing Professionalism Within Arizona's Courts
Promoting Public Trust and Confidence
At 4:00 p.m. that same day, media, law and justice partners, local officials, and the public are invited to attend the ribbon-cutting ceremony for the Pima County Juvenile Court Resource Center.  Chief Justice Robert Brutinel will speak in commemoration at the event.  The Center promises to further his strategic plan by offering the community greater access to justice while fostering confidence in the court and justice system.
The Resource Center will provide Pima County citizens one-stop access to legal forms and information in a staffed and comfortable business center setting, with four public-use computers, private workstations, printers, and copiers.  Further, a variety of materials regarding local justice and community partner agencies will introduce low and no-cost public resources available to all.
The Juvenile Court Resource Center will be open to the public 8:30 am until 4:30 p.m. Monday through Friday, excluding court holidays.