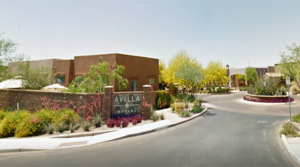 TUCSON, Ariz. –  Two multifamily properties, Avilla Marana I and Avilla Marana II, totaling 284-units sold for $45.44 million ($160,000 per unit). The multifamily properties are located at 4050 and 4115 West Aerie Drive in Marana, AZ.
Senior Managing Director Art Wadlund and Associate Director Clint Wadlund of Berkadia Real Estate Advisors in Tucson completed the deal on behalf of the buyer, California-based M3 Multifamily, LLC and the seller, Alta Vista Communities of Arizona, a joint venture of Karber Holdings (Roger Karber) and Brav Holding Company (Garry Brav) an affiliate of BFL Construction.
Seller has retained 27 acres at the site on Aerie Drive for future construction of another 500- units.
The buyer is a Santa Barbara, California company, M3 Multifamily, LLC. Formed in 2008 by John Mosby and Jon Martin for the purpose of acquiring, renovating and managing existing apartment communities in the United States in order to create cash flow and profits for their investors. Since then M3 has grown steadily, and currently owns/manages communities in Austin, San Antonio, Nashville, Reno, and Tucson.
This transaction represents the fourth acquisition for M3 Multifamily in Tucson from the same seller. It also owns Aerie at Tanque Verde, an 85-unit detached luxury rental community, located at 2495 N Desert Links Drive in Northeast Tucson purchased in 2013; Avilla River luxury rental community, a 76-unit community at 1000 W River Road, Tucson sold in 2014; and Avilla Preserve Orange Grove, a 184-unit luxury rental community, located at 2501 W Orange Grove Road, Tucson was acquired in 2015.
"The buyer was attracted to the properties for multiple factors, mainly the single-story apartment home concept," said Art Wadlund referring to the latest transaction. "The homes are ideally located in the I-10 and Ina/Thornydale corridor and have many features similar to custom homes."
Avilla Marana I and Avilla Marana II are adjacent properties. Avilla Marana I sold for $26.56 million, and Avilla Marana II sold for $18.88 million in two separate transactions. Both properties feature one-, two- and three-bedroom floorplans with high ceilings, custom cabinetry, in-home alarm systems, stainless steel appliances and granite countertops. Residents can also enjoy a resort-style pool, a gated neighborhood and garages.
For additional information, Art and Clint Wadlund can be reached at 520.299.7200 and Karber is available at 520.977.5456.