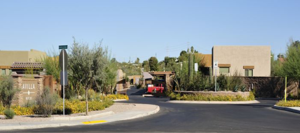 TUCSON, AZ - Aerie Development LLC (Roger Karber, managing member) closed on its Avilla River luxury rental community at 1000 W. River Road in Tucson for $11.4 million ($150,000 per home). Aerie Development's affiliate, BFL/PAB Construction Inc. completed construction of the 76-home community in August 2013.
The gated rental community is composed of one-, two- and three-bedroom single-story, detached homes with private walled rear yards, ten-foot ceilings, granite counter-tops, security alarms, and stainless steel appliances. It was 100% occupied when it sold.
MEB Management Services of Tucson provided professional management to the property before and after the sale.
The buyer, River Road Apartment Holdings LLC, is a California trust affiliated with the Santa Barbara-based trustee that acquired Aerie Development's 85-home Avilla Tanque Verde community in 2013, see full story here https://bit.ly/1vCcQll
Art Wadlund of Berkadia Real Estate Advisors in Tucson negotiated the sale on behalf of the seller.
Wells Fargo Bank provided construction financing and arranged a FNMA permanent loan for buyer.
Aerie Development has successfully completed construction of 623 Avilla homes in its four communities, with 446 homes currently under construction, including Avilla San Marcos Two (145-homes, Chandler, AZ), Avilla Marana Two (118-homes, Marana, AZ), and Avilla Sabino (183-homes, Tucson, AZ).
To learn more Wadlund should be contacted at 520.529.9206.