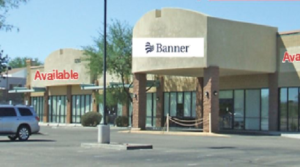 TUCSON, ARIZONA - In a time when healthcare has come front and center with a global pandemic, Banner-University Medical Group leased 8,000-square-feet at Rita Ranch Plaza, 8270 – 8290 S Houghton Road in Tucson, located on the southwest corner of Rita and Houghton Roads from KMC III, LLC.  The space was formerly used for the Carondelet Medical Mall.
This news comes after Rincon Neighborhood Hospital, a subsidiary of TMC HealthCare, announced at new 60-bedhospital to be built at the TMC Rincon Health Campus, located at the intersection of Drexel and Houghton roads. It is scheduled to open in 2023 according to a news release from TMC.
Banner – University Medical Center Tucson and Banner – University Medical Center South are part of Banner – University Medicine, a premier academic medical network. These institutions are academic medical centers for the University of Arizona College of Medicine – Tucson. Included on the two campuses are Diamond Children's Medical Center and many specialty clinics. The two academic medical centers are part of Arizona-based Banner Health, one of the largest nonprofit health care systems in the country.
Although the opening of new clinics had slowed this year, Banner – University Medicine opened three new primary care offices last year in the area. One in Marana and two more in the Tucson area.
"We constantly hear from the community about how difficult  it is to find a primary care provider in Tucson, so we are making access to convenient primary care a priority this year," said Chad Whelan, MD, chief executive officer of Banner – University Medicine in Tucson said in a press statement.
The Banner – University Medicine Cortaro Primary Care office at 8020 N. Cortaro Road, Suite 150, opened to patients in April, 2019.
Banner – University Medicine then opened a second primary care office at 6860 E. Sunrise Drive.
A third primary care office opened in June or July, 2019 at 7355 S. Houghton Road.
The landlord was represented by Andrew Sternberg and Gordon Wagner of NAI Horizon and the tenant was represented by Vicki Robinson of JLL in Phoenix.
For more information Sternberg can be reached at 520 729 1694 and Wagner should be contacted at 520 398 5130.