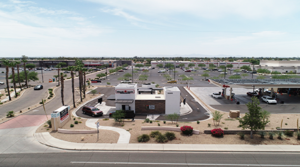 PHOENIX, ARIZONA – Cushman & Wakefield completed the sale of Black Rock Coffee Bar, located at 6805 W. Bell Road in Glendale, Ariz. Robert C. Williams Living Trust of Santa Rosa, Calif. purchased the property from Scottsdale-based Dos Compadres 67th, LLC for $1.2 million ($1,390 psf).
Chris Hollenbeck of Cushman & Wakefield's Phoenix office negotiated the transaction on behalf of the seller.
The 863-square-foot, single-tenant building is 100% leased to Oregon-based Black Rock Coffee Bar, a neighborhood focused coffee shop with over 50 locations. Brand new construction, built in 2019, Black Rock Coffee Bar is located in a strong retail hub with approximately 3 million square feet of retail in the area.
"We were able to close this deal from start to finish in only 10 days helping both the buyer and the seller with a smooth transaction. We are excited to help the buyer acquire a great piece of real estate in an extremely busy retail corridor," Chris Hollenbeck.