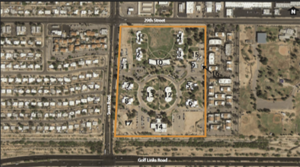 TUCSON, Arizona – BP Swan Investors, LLC (Don Bourn, manager) and Maizlish College Partners GLS, LLC (Toufic Abi-Aad, member), affiliates of Bourn Companies, purchased property at 4710 E 29th Street and 2021 S Swan Road in Tucson for $1.6 million ($1.31 PSF).
The 27.7763 acres sold with 115,245-square-feet of buildings that sold with no value to be razed. The buyer purchased to rezone from R-1 to an office use zoning for redevelopment.
With fundamentals of the Tucson office market improved, healthy demand drove net absorption to 184,040-square-feet in the third quarter of 2017, bringing the year-to-date total to 312,127-square-feet of net absorption. In the third quarter, office-users were particularly active in the Downtown and East Central submarkets.
According to CBRE, Tucson's vacancy rate tumbled 190 bps quarter-over-quarter to 14.3% during the third quarter of 2017. This is the lowest vacancy rate since Q3 2008.
The seller, the State of Arizona Department of Economic Security in Phoenix, was represented by Ben and Adam Becker with Ian Stuart of CBRE in Tucson.
The investors were represented by James Marian, CCIM, of Chapman Lindsey Commercial Real Estate Services of Tucson.
For additional information, Marian can be reached at 520.747.4000. Ben Becker is at 520.323.5149 and Adam Becker is at 520.323.5188. Stuart can be called at 520.323.5180.
To learn more, see RED Comp #5310.