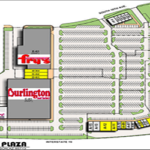 Starwood Property Trust, Inc., Walker & Dunlop LLC and CW Financial Services LLC sold the Burlington Coat Factory retail building located at 3660 S. 16th Ave. in Tucson, AZ to Agree Realty Corporation for $7.5 million, ($98 PSF).  Located at 3660 South 16th Avenue in Tucson the property was sold at auction in an REO sale fully leased to Burlington Coat Factory, the tenant.
Completed in 1983, the single-tenant building totals 76,366-square-feet on 6.9 acres in the South Tucson submarket of Pima County.
The tenant, Burlington Coat Factory is a strong national company, who successfully went public in 2013 with a total revenue increase north of 16% increase from 2013 to 2015 and 2015 revenue of $4.85 billion. The lease features a scheduled 10% rental increase in two years – 2018, and at the beginning of each 4 (5-Year) option periods, which generates steady NOI growth and hedges against inflation.
The property is co-anchored by Fry's Food (Kroger Inc.), with additional national tenants including DaVita Dialysis, Wells Fargo, Subway, Foot Locker, etc. This tenant lineup creates top tier customer draw, increases consumer traffic in the shopping center, and also serves to enhance the overall tenant synergy from Burlington Coat Factory. In addition, Burlington is located within a dense infill trade area with over 230,400 people and an employee base of 143,500 people living within a 5-mile radius.
Matt McNeill of Metro City Realty in Scottsdale along with Tim Chichester and Donald MacLellan with Faris Lee Investments of Irvine, CA represented the sellers. The buyer was self-represented.
For more information, McNeill can be reached at 602.570.7522 and Chichester and MacLellan are at 949.221.1800.
To learn more, see RED Comp #3971 and login for more information here.