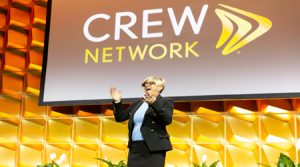 PHOENIX, ARIZ. (Oct. 16, 2023) – Jill Donovan, a celebrated writer, speaker, business innovator, and the creator behind Rustic Cuff, is the 2023 AZCREW Woman Icon speaker.
AZCREW, the commercial real estate organization that exists to transform the industry by advancing women globally, presents its annual signature event, Woman Icon, on Oct. 25 at ASU Kerr Cultural Center, 6110 N. Scottsdale Road, in Scottsdale, Arizona.
Donovan was the keynote speaker at 2022 CREW Network Convention and her impact has been significant. Chapter leaders have expressed high praise for the valuable experience she delivers.
"Jill surprised me in the best way – motivational, funny, emotional, and engaging are just a few words that I would use to describe my experience listening to her speak," said Jenny Liles, AZCREW president-elect and Director of Market Operations at CRESA. "I took away lots of philosophies to improve both my personal and professional life. I am excited to see her speak again."
Donovan started her professional life as a practicing attorney and adjunct law professor at the University of Tulsa School of Law. Then her creativity and obsession with cuff bracelets and gift-giving led her in a new and unexpected direction – as the founder of a company called Rustic Cuff.
"Jill is a speaker you don't want to miss. I had the chance to see her in person years ago, and her message still resonates," said Heather Skinner, AZCREW past president, and Real Estate Business Partner at McKesson. "I look forward to attending the upcoming event and being inspired again."
In the years that followed, Rustic Cuff became a nationwide movement based on joyful generosity, with countless women purchasing and spontaneously "regifting" meaningful cuffs to others. Today Rustic Cuff encompasses multiple showroom locations and more than 150 employees.
Donovan is also the author of "The Kindness Effect: Experience the Power of Irrational Giving." She challenged herself long ago to master a new hobby every year, whether it's learning a new language, tap dancing, ice skating, or simply setting a goal that seems unreachable.
AZCREW's October event at ASU Kerr Cultural Center begins at 4:30 p.m. with registration and networking. The presentation begins at 5 p.m. The event wraps up with networking and a reception from 6 p.m. to 7 p.m.
"This venue is truly unique. Set in the historic home of Louise Lincoln Kerr, ASU Kerr exudes vintage speakeasy vibes in an intimate theater setting," said Michelle Rutkowski, owner of MOR Studio and AZCREW events director. "It is the perfect venue for an evening of inspiration and connection."
Registration fee is $100 for members; $570 for a table of six (person booking the table must be a member); and $125 for non-members. Register here.