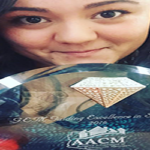 Tucson, AZ -- Three employees from Cadden Community Management were honored during the annual Arizona Association of Community Managers (AACM) G.E.M. Awards held September 22 in Phoenix.
The G.E.M. Awards recognize the individual efforts of the Certified Arizona Association Manager (CAAM) community managers, CAASP support professionals and outstanding Affiliate Partners who have made a contribution above and beyond the normal course of their duties to their association clients and company. In addition, they actively support AACM and its goals.
Lily Strizich won the CAASP Excellence in Service award.  Former Cadden COO Kim Lax received the President's Award for her many years of service in AACM and Pierre Renault was a finalist in the Instructor of the Year category.
The Arizona Association of Community Managers (AACM) is a professional organization dedicated to promoting a positive understanding of community associations and the contribution of professional management services in the development, establishment and maintenance of high-quality, well-managed neighborhoods.
Cadden Community Management has enjoyed over 29 years of success in the association management industry. Today, the company is responsible for maintaining and increasing property values of homes in over 200 communities in Tucson, Green Valley and Sierra Vista.