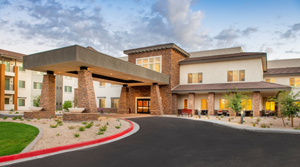 New senior living community in Mesa celebrates grand opening with ribbon cutting of its newest lifestyle community focused on wellness, engagement and fun
MESA, ARIZONA — Cadence Living and Ryan Companies US announce the grand opening of Acoya Mesa, a new 170-unit senior living community located on nearly seven acres at 6502 E. Brown Road, across from Granite Reef Park.
The grand opening was celebrated this week. It was marked by a ribbon-cutting ceremony with members of the community, Mesa Chamber of Commerce, Ryan Companies and Cadence Living.
The 183,000-square-foot community offers residents a vibrant lifestyle with independent living, assisted living and memory care apartment options. Acoya Mesa's modern design features studio, one- and two-bedroom residences with full kitchens, washers and dryers, walk-in showers and a 24-hour emergency lines.
Residents will enjoy upscale amenities, including all-day restaurant style dining, an arts and crafts talent room, raised garden beds, movie theater, salon, game room, special event hall, fitness room as well as a robust schedule of entertainment, fitness classes, book clubs and seminars.
"It's been an exciting year for Cadence Living with the opening of our second Arizona community," said Rob Leinbach, principal at Cadence Living. "We are focused on filling the growing need for socially-focused senior living options that inspire holistic well-being and allow residents to share community with their peers." Ryan Companies, co-owner and co-developer of Acoya Mesa, served as the general contractor and architect while providing capital markets services for the very first joint venture project with Cadence Living.
"We've built an incredible partnership with Cadence Living and are thrilled to be opening this high-quality community for seniors to live comfortably in a project we are so proud to have developed," said Tyler Wilson, vice president of real estate development, Ryan Companies. "Seeing residents living happily in the community will be rewarding and remind us why we come to work every day."
Ryan A+E, Inc. designed the community to reflect the architecture and character of the surrounding area and Studio SIX5 focused on creating an inviting interior in which future residents will thrive.
"We've spent a lot of time listening to seniors across the country and with Acoya Mesa we have created an incredible place for individuals and couples seeking a lifestyle of wellness and fun to feed their spirit," said Eric Gruber, principal at Cadence Living. "We look forward to sharing our newest community with you and invite everyone to see for themselves how the Cadence culture creates a vibrant rhythm and lifestyle."
Caption information: Acoya Mesa's grand opening was marked by a ribbon-cutting ceremony this week, celebrated by members of the community, the Mesa Chamber of Commerce, Ryan Companies US and Cadence Living. (Photo by Alison Anne Johnson Photography)
Exterior photo credit: David Schacher Photography LLC