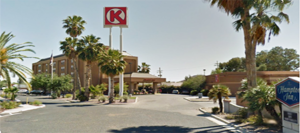 A consortium of private investment groups affiliated with Hall Equities Group of Walnut Creek, CA and Real Estate Investor and Developer Mark Hall have acquired 29 hotels and the corporate assets of Duluth, Minnesota based hotelier ZMC Hotels.
ZMC Hotels is a third generation family business previously owned and operated by the prominent Goldfine Family of Duluth. Employing more than 1,000 people, ZMC Hotels owns and operates both private label boutique hotels, as well as those licensed by many prominent brands, including Hilton, Marriott, IHG, Wyndham, and others.
The hotels are disbursed across the country from Duluth to Phoenix, AZ, to Florida, and many locations in between. Five hotels are clustered in Scottsdale, Arizona and the Hampton Inn at 1375 West Grant Road in Tucson that sold for $4.41 million ($48,425 per room) for the 91 room hotel. Total sale price and other properties were undisclosed.
All of the hotels, along with other select quality properties, will be master leased to and managed by Zenith Asset Company, an affiliate of Hall. Zenith and Hall Equities Group will be headquartered out of Walnut Creek, California, and Mark Hall is the CEO for both companies. Hall intends to retain certain senior ZMC Hotels management staff located in Duluth, Kansas City, and Scottsdale, but will consolidate accounting and construction functions to the Walnut Creek, CA headquarters.
Hall stated, "We are pleased our investor groups have the opportunity to acquire the ZMC operating platform, and all 29 of the company's hotels, together with several sites for additional hotel expansion projects. We have had a few hotel investments over the last ten years, but with this acquisition, we will now be able to include hospitality product in our portfolio of investment opportunities in a more significant manner."
Hall Equities Group combined with the ZMC Hotels portfolio now totals nearly 10 million–square-feet of income property in 140 properties in 16 states. Hall Equities Group has investments in multi-family apartments, office buildings, retail centers, industrial space, self-storage, medical and life science real estate, residential subdivisions, and hospitality. It is expected that Zenith will take over management and operation of certain existing hotels controlled by Hall Equities Group. Following this, Zenith's total hotel portfolio will then consist of some 4,000 rooms in 34 properties.
Hall has plans for more than $40 million in immediate capital investment improvements and upgrades within the ZMC Hotel portfolio. In addition, Zenith also plans to build several new hotels. "We will employ the operational skills and experience of the ZMC team, together with our own homegrown development and construction management experience, to immediately focus on building five new hotels, including two in Scottsdale, AZ, one in the Puget Sound region, one in our hometown of Walnut Creek, CA, and one in Duluth, MN. Additional projects will be pursued in coming years," stated Hall.
Equity financing for the transaction was derived from a variety of sources, including the sale of three quality properties by the Hall Equities Group sponsored investment groups, cash on hand, and the refinancing of two multi-family apartment buildings. The refinances were handled through Wells Fargo Bank, and JP Morgan/Chase. Hotel purchase money financing was provided by Bank of America. New hotel development projects going forward will have new standalone financing.