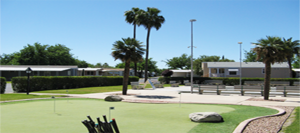 TUCSON, Arizona –
Cal Am Properties
, Inc of Encino, California (Steve Hester, CEO) purchased the
Far Horizon East Mobile Home Park
at 7570 E Speedway Blvd. with 415-space for $33 million ($79,518 per space) and the adjoining
Far Horizons RV Resort
at 555 N Pantano Road with 514-spaces for $21 million ($40,856 per space). Cal-Am owns RV Resorts and manufactured home communities throughout Arizona, California, Florida, Minnesota, Nevada, Ohio, Oregon and Washington. This is Cal-Am's first venture in Tucson. Both communities are award winning 55+ communities in Tucson.
Far Horizons RV Resort
was award winner in the Mega Park category in 2015 by the Arizona Association of RV Parks and Campgrounds.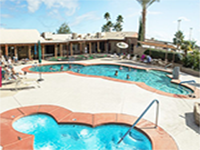 Thousands of snowbirds flock each year to Tucson for activities such as the Tucson Senior Olympic Festival offering events in 31 sports, including racquetball, tennis, bowling, basketball shoot, archery, golf, track and field, horseshoes, badminton, powerlifting, shooting, shuffleboard, volleyball, and pickleball. This year's 33
rd
Annual Senor Olympics Festival was held January 7 – February 4, 2017 in multiple locations. "There are approximately 1,300 to 1,400 participants in the Tucson Senior Olympic Festival, and at least 50 to 60 percent of them are snowbirds," said
Mike Davis
, program coordinator for the Tucson Senior Festival. Events like these, the climate and beautiful desert and mountain scenery make Tucson a popular senior destination which also feeds attractive investments.
John Sheedy
, Mobile Home Park and RV Park sales specialist with Park Brokerage had this to say, "As the cap rates for both family and especially 55+ mobile home parks with permanent residents have compressed pretty significantly over the last 2-3 years, more buyers are becoming attracted to the high yields and returns associated with RV parks especially those with a high ratio of park model occupancy.  There is a common misconception that the RV park business is significantly more management-intensive than a mobile home park which isn't really true especially when you consider the Snowbird (deserts) or Sunbird (mountains) RV parks that are prevalent here in Arizona.  The overwhelming majority of the tenancy is older, more financially secure, and a good chunk of the rental income is generally received in one lump sum at the beginning of each season.   These types of RV parks definitely do not operate like the KOA's and other freeway RV parks which have a high volume of nightly visitors.  And what used to be a primarily cash business has now become more online reservation and credit card based.  And like a mobile home park, RV park owners also have the low overhead of only maintaining common areas and these parks are generally only open part of the year which means you're getting traditional MHP cap rates of 9-12% which are very difficult to find in today's mobile home park market with just as little repairs and operational headaches." For more information, Sheedy can be contacted at 602.821.4666. To learn more see
RED Comp #4470
and
#4598.