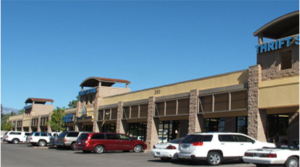 TUCSON, ARIZONA – California- based, Pantano Tucson Marketplace LLC bought 29,523-square-feet on 2-acres at 150-250 N. Pantano Road from Broadway and Pantano Retail LLC for $3.7 million ($125 PSF).
Pantano Tucson Marketplace is located at the northeast corner of Broadway and Pantano in Tucson, Arizona, which is a very busy intersection. 37,000 cars per day travel on Broadway at this intersection, and 36,000 cars per day travel on Pantano, according to PAG.
The center sold fully occupied with 22,370-square-feet leased to a high-end thrift store operator, InJoy Thrift Store, on a long-term lease. Other tenants include: Orthodontic Professionals in 2,952-square-feet, Hungry Howie's Pizza in 900-square-feet, Headline Hairstyles 900-square-feet and J. Henri Cleaners in 2,400-square-feet, all on triple net leases
Located in the heart of a dominant retail hub with a synergistic surrounding tenant line up including Home Depot, Kohl's La-Z- Boy, Sam's Furniture Outlet, O'Reilly Auto Parts, US Bank, IHOP, Carl's Jr. / Green Burrito, Wingstop, Circle K and others.
Robert J. Nolan of Oxford Realty Advisors represented the buyer and John Yarborough of Romano Real Estate represented the seller, NCH Corporation of Tucson.
For more information, Yarborough should be reached at 520.577.1000 and Nolan can be contacted at 520.232.0200.
To learn more, see RED Comp #7169.