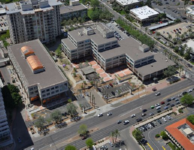 Phoenix – An affiliate of KBS Realty Advisors of Newport Beach, Calif. (Peter Bren, Charles Schreiber, Jr. co-founders) paid $85.1 million ($252.57 per foot) to purchase the Anchor Centre office complex located at the southeast corner of Camelback Road and 22nd Street in Phoenix.
The 336,939-square-foot project was acquired by KBSIII Anchor Centre LLC, a company formed by KBS Real Estate Investment Trust III Inc. The REIT is externally advised by KBS Capital Advisors, LLC, an affiliate of KBS Realty Advisors. The seller was AG/DWC Anchor Centre LLC, a joint venture formed by Angelo, Gordon & Co, LP in New York City, N.Y. (John Angelo, Michael Gordon, partners) and David Warren of DW Capitla Parners, LLC in Phoenix.
The deal was brokered through Chris Toci of Cushman & Wakefield of Arizona, Inc. in Phoenix, and Mike Beall and Chris Walker of Cassidy Turley in Phoenix.
Anchor Centre is comprised of a 6-story, 200,576-square-foot structure at 2201 E. Camelback Road and a 4-story, 136,363-square-foot building at 2231 E. Camelback Road. Maricopa County records show the buyer acquired the office property with a $53.2 million loan from U.S. Bank. The two-building project, which was built in 1984 and 1986, is 78 percent occupied. The leasing has been handled by Beall and Walker and the Cassidy Turley agents are expected to keep that assignment.
The purchase price is almost $100 more per foot than the seller paid for the property 3½ years ago.
KBS Realty is a long time investor in the Valley office market. Over the past 15 years, the company and its affiliates have bought and sold several hundred millions of dollars worth of office space in the Phoenix area. KBS Realty is interested in additional office investments in the Phoenix as well as other major employment growth markets in the U.S. Anchor Centre is the third Camelback Road office property that has sold in the past 18 months.
Advisors regional pres. is Rodney Richerson, call him at (949) 417-6500. The contact at Angelo, Gordon is Will Abbate, who can be reached at (310) 777-5445. Contact Warren at (602) 810-8494.
To read complete story go to BREW