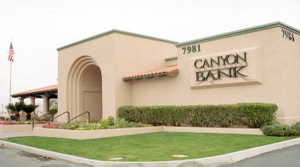 TUCSON, ARIZONA (September 27, 2023) -- CrossFirst Bankshares, Inc. (Nasdaq: CFB) ("CrossFirst") and Canyon Bancorporation, Inc. ("Canyon") announced in April that they have entered into a definitive merger agreement under which CrossFirst and Canyon will consummate a business combination transaction resulting in the mergers of Canyon with and into CrossFirst and Canyon's bank subsidiary, Canyon Community Bank, N.A. ("Canyon Bank"), merging with and into CrossFirst's bank subsidiary, CrossFirst Bank ("CFB Bank"), in a stock and cash transaction. Canyon Bank had total loans of $122 million and total deposits of $169 million as of March 31, 2023, and currently operates one banking location in Tucson, Arizona.
The transfer of 7981 N Oracle Road for $1,170,926 on 9/06/2023 occurred as part of the acquisition.
The two banks combined will bring together complementary banking platforms focused on serving small businesses and the surrounding communities they serve. The transaction continues CrossFirst's commitment to expansion in the Southwest by adding a branch in Arizona's second-largest metro area.
CrossFirst believes that providing Canyon Bank's clients with access to CFB Bank's broader array of banking products and capabilities will enhance benefits for Canyon Bank clients and synergies with CrossFirst's existing presence in the Phoenix market.
"We are excited to welcome Canyon Bank's clients and employees to our CrossFirst team," commented Mike Maddox, CrossFirst's President and Chief Executive Officer. "This transaction represents a natural extension of our growth opportunity in Arizona by providing a strategic presence in Tucson with a strong core deposit base and liquidity position while also supplementing our existing presence in the metro Phoenix market."

"We believe this is an exciting moment for Canyon Bank. We will continue to serve our clients in our local community and be able to offer enhanced technologies, products and services," said Bo Hughes, Canyon Bank's President and Chief Executive Officer.
Canyon shareholders are expected to receive a combination of cash and CrossFirst common stock as consideration for their shares of Canyon common stock, with an aggregate transaction value estimated at $15.1 million based on the current CrossFirst stock price.
The business combination was approved by the Board of Directors of each company and bank.
CrossFirst was advised in this transaction by Raymond James & Associates, Inc. as financial advisor and Stinson LLP as legal counsel. Canyon was advised by Keefe, Bruyette & Woods, A Stifel Company, as financial advisor and Hunton Andrews Kurth LLP as legal counsel.
To learn more, see RED Compa #10880.