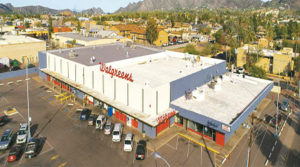 PHOENIX, Arizona – A 43,254-square-foot neighborhood shopping center on 7th Street and Townley Avenue was acquired for $3.3 million by Capital Development Group (Principals Rachelle Strole, Jason Hersker and Stephen Herman) and partner Rhapsody Ventures (Principals Eric Sorenson, Jacob Hodson and Mark Fenton). This is Capital Development Group's second purchase in their newly formed entity with two additional properties currently in escrow.
Anchored by one of the oldest Walgreen's locations in Phoenix, operating since 1964, the shopping center is located in a redevelopment area of Phoenix. Additionally, Little Miss BBQ recently opened their second Phoenix location onsite.
"We jumped on the opportunity to purchase a historical, retro-retail property in a gentrifying trade area of North Phoenix," said Jason Hersker, director of sales and leasing at Capital Asset Management. "We are also thrilled to have such a nationally recognized restaurant concept, Little Miss BBQ, as a neighbor in our Shopping Center."
Infusing capital into the project to bring new life into the area, Capital Asset Management back-filled the vacant big-box space with Planet Fitness, expected to open in mid-2019.
For leasing inquiries or other development opportunities, contact Capital Asset Management's Jason Hersker at 602-370-9605 or visit https://camcre.com.