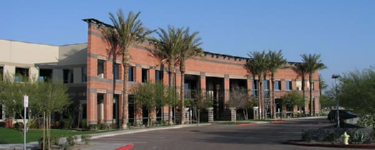 Salt River Pima-Maricopa Indian Community - BREW is reporting a venture between CarVal Investors in Hopkins, Minn. (John Brice, CEO) and Mainspring Capital Group in Scottsdale paid $50 million ($184 PSF) to buy the approximate 272,000-square-foot of office space within the Pima Center mixed-use business park on the Salt River Pima-Maricopa Indian Community.
That 209-acre project is located on the eastern edge of Scottsdale at the northwest corner of the Loop 101 and Via de Ventura. The CarVal Investors joint venture, called CV MainSpring Pima LLC, acquired a ground lease on the property underneath the buildings. The land is owned by members of the Salt River Pima-Maricopa Indian Community and has been master-leased for 65 years beginning in 2004. Pima Center is located on Native American soil, but the buildings have Scottsdale addresses.
The two, three-story structures, each of around 135,891-square-foot, have addresses of 9000 and 9200 E. Pima Center Parkway. The seller was Pima Parkway Venture LLC, a joint venture partnership formed by GEM Realty Capital Inc of Chicago, Ill., Farallon Capital Management, LLC in San Francisco, Calif. and MainSpring (Mills Brown, Curtis Brown, Gerry Blomquist, Marty Farnsworth, Joe Bayer, principals).
The sale was brokered by Bob Crum of Ross Brown Partners in Scottsdale.
CarVal has long been an investor with various operators owning Arizona real estate, but the company had not made an investment in the Phoenix area since before the downturn in the Valley market. CarVal is interested in buying additional office and industrial projects in the Phoenix area and has also been a player in the multi-family and hotel property sectors.
Mark Kunkel is the contact at CarVal and can be contacted at (952) 984-3774. The principals of MainSpring Capital Group are at (480) 362-9600. The contact at GEM Realty Capital is Dan Rosenbloom and can be reached at (312) 915-2900. Farallon is at (415) 421-2132. Call Crum at (480) 362-9521.
For full story click here: BREW by the Rose Law Firm in Phoenix