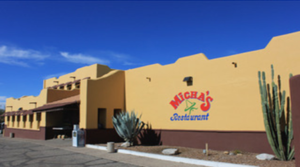 TUCSON, ARIZONA – In April of last year, Tucson icon Micha's Restaurant was destroyed by a fire that took less than 23 minutes to consume much of the building.
Caylor Design and Construction was hired for the rebuild and began immediately with a quick-response cleanup aimed at salvaging what could be saved. It was important to everyone that the restaurant be rebuilt as close to the original as possible, so, working closely with multiple governing agencies, Caylor recreated plans from the 1970's and updated them to conform to new safety requirements and building and health codes.
Caylor was able to salvage the walls, but completely rebuilt the roof and installed a stunning new state-of-the-art kitchen, while restoring all four dining rooms. Caylor reported that it was gratifying that so many of their trusted sub-contractors were more than eager to help on the project, knowing that so many families depended on this South Tucson icon.
For more information, Caylor Design and Construction should be reached at 520.298.2200.