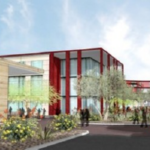 Liberty Property Trust to build ±1 Million-Square-Foot, Mixed-Use Development
Phoenix, Ariz. – CBRE has been awarded the marketing assignment for the +/- 800,000-square-foot office portion of Liberty Center at Rio Salado, the ±1 million-square-foot, mixed-used project being developed by Liberty Property Trust. The ±100 acre property will focus on high-performance buildings with a sustainable design at the northwest corner of Rio Salado Parkway and Priest Drive in Tempe, Ariz.
Construction is already underway, with completion of the first speculative building, a two-story 155,000-square-foot, class A office building, slated for mid-year. The building, located at 1850 W. Rio Salado Parkway, is designed to achieve LEED Silver certification. CBRE has begun marketing Building One for lease, as well as other land parcels within the business park for build-to-suit opportunities. The state-of-the-art mixed use development project is expected to pique the interest of major companies looking at metro Phoenix as a place to locate or expand operations, due to its central location, highly educated labor pool and immediate access to Mill Avenue amenities in downtown Tempe.
"The currently-under-construction 1850 building at Liberty Center will offer a large block of existing space that will be unmatched in terms of location and quality," said CBRE's Brad Anderson, who along with Michael Strittmatter, will head up the marketing team for the project. "There is an increasing shortage of large blocks of quality contiguous space across metro Phoenix. Liberty Property Trust recognizes the need for quality options for users and the development of Liberty Center will help meet that need."
"Liberty Center at Rio Salado is our largest project to date in Arizona, and the selection of CBRE to manage the marketing for the office portion of the park is an exciting step as we get underway," said John DiVall, senior vice president for Liberty Property Trust's Arizona region. "This park will provide work environments that will make a difference in the quality of people's lives, through our commitment to sustainability, as well as through design that promotes productivity and innovation."
In concert with Building One, Liberty is building a formal entrance as well as installing significant infrastructure to serve the entire park in anticipation of announcing the development of a second building by year's end. The first building is part of Phase I, which will eventually include seven office buildings and one industrial building. Plans for Phase II, which will be located at the northeast corner of Priest and Rio Salado, include a hotel, retail and additional office buildings. At build-out, Liberty Center at Rio Salado will feature more than one million square feet of space. All buildings will be designed to meet LEED certification.
Liberty Center at Rio Salado is centrally located in the heart of the Phoenix Metropolitan Area, offers unparalleled visibility and access to the Arizona Route 143 and Red Mountain Loop 202 freeways, and is within minutes of Sky Harbor International Airport. Liberty Center at Rio Salado will allow companies to tap a large, skilled employee base and those employees will be able to enjoy the unmatched amenity base in downtown Tempe.  The location is less than five miles from Liberty Property Trust's fully leased 1.2 million square foot business park Liberty Cotton Center.
Liberty Property Trust owns and manages approximately 3 million square feet of space in Phoenix, Scottsdale, Tempe, Goodyear and Tolleson, and, in addition to Liberty Cotton Center and Liberty Center, some of its holdings include Liberty 303 Business Park, Liberty Tolleson Center, Liberty Sky Harbor Center, and the LEED Gold and Energy Star certified 8501 E. Raintree Drive office building.