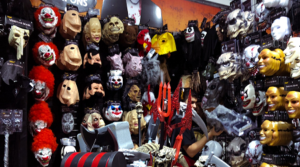 Tucson, Arizona – CBRE arranged the leases for two seasonal retail spaces totaling 39,919- square-feet to seasonal "pop-up" tenant Spirit Halloween Superstores based in Egg Harbor Township, NJ. Nancy McClure with CBRE Tucson represented the landlords in all three transactions. Torrey Briegel with Phoenix Commercial Advisors represented the tenant.
Spirit Halloween Superstores has signed leases in the following locations:
A 21,535-square-foot space owned by K-GAM Broadway Wilmot LLC, at 6230 E. Broadway Blvd., #100, just east of Park Place Mall at the southwest corner of Broadway Boulevard and Wilmot Road.
An 18,384-square-foot space at Saguaro Shopping Center, 5975 E. Broadway Blvd., #115. The landlord is KGAM Saguaro Properties, LLC.
"Spirit plans to open these by Sept. 1st. Temporary/seasonal leasing is akin to the now popular "Pop-Up" stores that offer tenants the opportunity to secure a retail space in a high-traffic area to attract customers to their stores for a short period of time. The locations benefit from bringing added traffic to the centers which often brings customers to the adjacent stores, making it a Win-Win!"