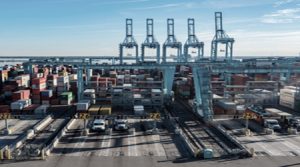 (October 2, 2023) -- Cargo container volumes at the 14 major North American ports tracked by CBRE are falling back to pre-pandemic levels. After reaching record highs in 2022, volumes declined by 18.6% year-over-year over the first two quarters of 2023.
Labor issues
While West Coast ports reached a tentative labor agreement earlier this year, Western Canada port workers went on strike in July. The strike heavily impacted the Port of Vancouver before a labor agreement was ratified after 13 days.
Economic influences
The U.S. unemployment rate rose to 3.8% in August, up from the 3.5% recorded in July. This brings the number of unemployed persons to 6.4 million. Preliminary August average hourly wages increased by 3.6% year-over-year, according to the BLS. The Federal Reserve raised interest rates to a 22-year-high range of 5.25 to 5.5% in July.
Product inventory levels remain low
The product inventory levels component of the Logistics Managers' Index fell to 41.9 in July, its lowest value since February 2022. Smaller firms are reducing product inventories more than larger ones.
Q2 Cargo Container Volumes
Six of the eight major U.S. ports tracked by CBRE—Los Angeles, New York & New Jersey, Savannah, Houston, Virginia and Charleston—had increased Q2 container volume compared with five years ago.
Manzanillo, Mexico was the only major North American port with year-over-year growth in Q2 container volume (+7.2%). Compared with five years ago, volume at Manzanillo was up by 24% as it and fellow Mexico port Lazaro Cardenas benefit from nearshoring of manufacturing operations by many U.S. companies.
Container volume is decreasing to normal pre-pandemic levels at most major ports after record highs last year caused by the need for more inventory to meet strong consumer demand.
Figure 1: Q2 TEU Volume Comparisons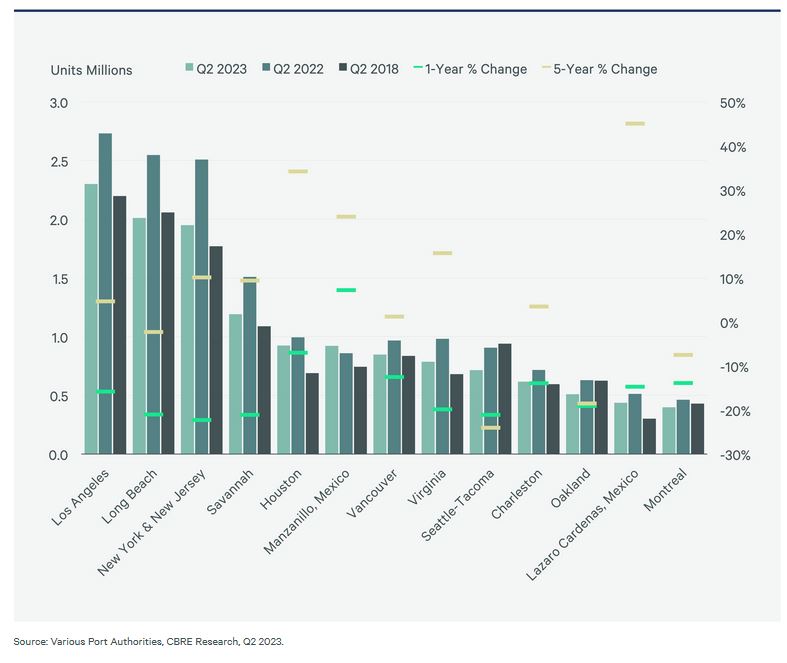 U.S. Seaport, Inland Port & Non-Port Market Fundamentals
Industrial vacancy rates increased by 50 basis points (bps) quarter-over-quarter for seaport markets and by 40 bps for both inland port and non-port markets to 3.5%, 4.6% and 3.7%, respectively.
Markets with the lowest vacancy rates were all seaports: Charleston (1.3%), Los Angeles (1.5%), Oakland (2.4%) and Portland (2.6%).
Inland port markets had the most combined net absorption in Q2 totaling 60.4 million sq. ft., led by Dallas-Ft. Worth (18 million sq. ft.), Chicago (10.8 million sq. ft.) and Atlanta (6.6 million sq. ft.).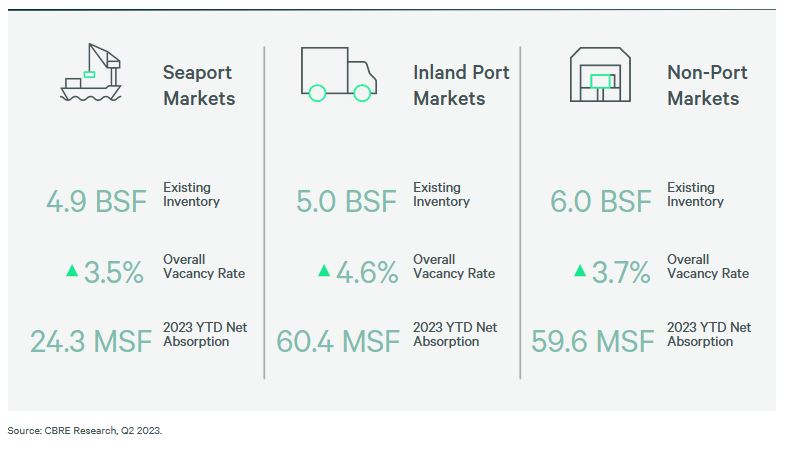 For full report, CLICK HERE.