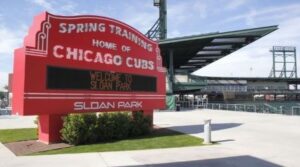 PHOENIX, ARIZ. (Feb. 20, 2023) – A receivership class. The monthly chapter meeting and lunch. A class on deploying big data. A Chicago Cubs spring training game.
The Central Arizona Chapter of CCIM, commercial real estate's global standard for professional achievement, hits it out of the park this spring with numerous events. They include:
Commercial real estate receivership Ward Center class
Court-appointed real estate receiverships provide commercial real estate professionals with a unique opportunity to gain a solid understanding of the nuts and bolts, which is essential to success. With more than 20 years of experience administering more than 700 receiverships in state and federal court, Stephen Donell, CCIM, president of FedReceiver, Inc., shares his in-the-trenches experience navigating the complexities of this type of transaction and how brokers can best position themselves to work with receivers.
The event is February 23 from 9 a.m. to 12:30 p.m. at the CoStar office, 2325 E. Camelback Road, Suite 110, Phoenix. Registration fee is $110 for CCIM members, $130 for Realtors, and $150 for non-members.
In real estate receiverships, participants will learn the language of receiverships, the life cycle of a receiver sale, and how to gain valuable insights regarding what receivers are looking for when retaining brokers.
Additionally, participants will learn how CoStar's tools can help them search for distressed property opportunities in a matter of minutes.
Chapter Meeting Lunch & Learn
Kathryn Peacock with Partner Engineering and Science will cover the basics of environmental due diligence and building science and what CRE professionals need to know to successfully navigate their real estate deals.
Partner is the national leader in Phase I Environmental Site Assessments by volume. The Partner Phoenix office provides Phase I Environmental Site Assessments, Phase II Environmental testing, ADA Surveys, Property Condition Assessments, and Asbestos Surveys in support of commercial real estate.
Peacock possesses more than 20 years in the environmental consulting industry and extensive experience in due diligence assessments. Partners has a strong presence in Phoenix and is familiar with the many environmental conditions that distinguish Arizona from other parts of the country, from drywells to fluctuating groundwater, and integrate regional knowledge into their reports.
The event is March 1 with the program and lunch from 11 a.m. to noon at The Henry, 4455 E. Camelback Road, Phoenix. Check-in is 10:30 a.m. to 10:50 a.m. Registration fee is $40 for members, $55 for non-members.
CI 102: Deploying "big data"
One of CCIM's most innovative core courses, CI 102 shows participants how to deploy "big data" and the most advanced digital tools to assess critical issues like market demand, location facility, and supply-chain strategy.
CI 102 students have learned BAO mapping and data analytics to help their clients select store locations; others used Tapestry Segmentation to determine demand for apartment properties. In CI 102 participants will work with four case studies covering each of the major property types: office, industrial, multifamily, and retail.
There is no prerequisite to taking CI 102. The event is March 13-16 at SkySong Building 1, Conference Room 249, 1475 N. Scottsdale Road, Scottsdale.
CCIM/RMA Cubs spring training event
CCIM and RMA take over the first base party deck for a Chicago Cubs spring training game March 14 at Sloan Park, 2330 W. Rio Salado Parkway, Mesa. First pitch is 6:05 p.m. Tickets are $100 for members, $125 for non-members. Sponsorship opportunities are available.
Register here for the spring events.
Visit centralazccimchapter.com to learn more about the CCIM Central Arizona Chapter.