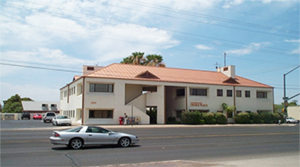 TUCSON, Arizona — BLB Real Estate Holdings, LLC of Scottsdale (Dr Brad Roberts, member) purchased a multi-tenant office building, at 2761 N. Country Club Road in Country Club Plaza in Tucson.
The two-story, 9,080-square-foot building was built in 1984 and was purchased with three tenants to owner occupy a portion for a dental practice back office for General Dentisty 4 Kids, while continuing to lease the remainder of building.
General Denistry 4 Kids caters to babies, toddlers and kids of all ages. With children's dental offices in Tucson, AZ and Phoenix, AZ to offer a friendly environments full of energy, fun activities and games that help children overcome anxiety. Patients can sit back and relax watching cartoons while getting their teeth checked. Parents are also welcome in the exam rooms. Metro Tucson locations include 1743 W Prince Road., 295 W Valencia Road., and 2102 N Country Club Road., and in Phoenix at 3552 W Glendale Ave and 3202 E Greenway Road.
The purchase price was $635,000 ($70 PSF).
Andrew D. Sternberg of Oxford Realty Advisors represented the seller, Country Club Plaza, LLC of Tucson (Jeffrey Dowling, member) in the transaction. Ben Craney of NAI Horizon in Tucson represented the buyer.
For more information, Sternberg can be reached at 520.232.0200 and Craney can be contacted at 520.326.4500.
To learn more, see RED Comp #4747.