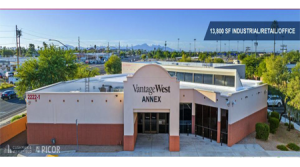 TUCSON, AZ (November 16, 2023) – 2222 South Craycroft Road, LLC, an affiliate of Centria Autism purchased the Vantage West Annex building at 2222 S Craycroft in Tucson for $2.15 million ($156 PSF).
The 13,800-square-foot building on a 66,040-square-foot lot was purchased for development of a Centria Autism Center. This will be an expansion to its other two locations in Tucson.
Centria Autism was founded in 2010 and quickly became a leading provider of Applied Behavior Analysis (ABA) Therapy to children with autism in the country. After just five years, Centria Autism grew to be the largest ABA Therapy provider in Michigan and has since expanded to serve 13 states in the U.S.
Today, Centria Autism employs nearly 3,500 full-and part-time passionate professionals. We strive each day to serve more children living with autism to achieve our mission: to help more children living with autism to develop, pursue, and achieve their own goals and dreams through high-quality ABA therapy and support.
The standard-setting care provided by Centria Autism is validated by industry accreditation from The Joint Commission (JCAHO) and the Behavior Health Centers of Excellence (BHCOE).
The transaction closed on November 8, 2023.
Rick Kleiner and Alexis Corona with Cushman & Wakefield | PICOR represented the seller, Vantage West Credit Union. Gordon Wagner and Ben Craney with NAI Horizon in Tucson represented the buyer in the transaction.
To learn more, Kleiner can be reached at 520.546.2745, Wagner should be contacted at 520.326.2200 and Craney is at 520.326.4500.
To learn more, see RED Comp #10977.